Korres Rose Wood/Blackcurrant/Cyclamen, Saffron/Amber/ Agarwood/Cardamom, Pepper/Jasmine/Gaiac Wood/Passion Fruit (2009) {New Perfumes}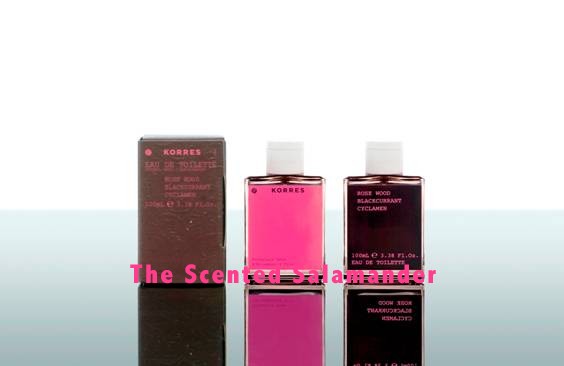 Rose Wood/Blackcurrant/Cyclamen

Korres
has introduced a series of three perfumes presenting interesting note contrasts inspired by four main fragrance facets: spice, fruit, wood and flower. They are called - the descriptive names are quite long -
Rose Wood/Blackcurrant/Cyclamen, Saffron/Amber/ Agarwood/Cardamom, Pepper/Jasmine/Gaiac Wood/Passion Fruit
. Special care was taken to develop eco-friendly formulae...
"As part of an ongoing effort to eliminate potential exposure to polycyclic-musk (PCM), nitro-musk and phthalates, Korreshas opted for a fragrance that is free of these synthetic, non-biodegradable compounds that are widely used as fragrance fixatives and are known to cause irritations and bioaccumulation; Korresdeveloped instead a formula, preserved with a natural food-grade antioxidant - Rosmarinus officinalis [rosemary]."


A philosophy of perfume is proposed,

"What is fragrance nowadays? For George Korres it's an expression of individuality and mood, a reflection of the various sides of one's self. A unique fragrance. Not easy. Not temporary'.[...] A fragrance that is translated into three [3] different blends, each of which was created independently. Grasse, Tokyo, Genève. One brief, yet three of the world's leading perfume houses working closely with George Korres - one perfume house for each scent."


The blends incorporate further notes than the ones listed in the titles of the scents.
Rose Wood/Blackcurrant/Cyclamen:
TOP NOTES: Rose, Pink Grapefruit, Blackcurrant
HEART: Rose wood, Rose, Mint leaves, Freesia, Cyclamen, Lily
DRY OUT: Woods, White flowers
CHARACTER: deep floral, bright, sparkling
FEELING/ CONCEPT: individually feminine, contemporary yet classic, addictive.

Saffron/Amber/ Agarwood/Cardamom:
TOP NOTES: Cardamom, Bergamot, Cinnamon
HEART: Saffron, Cedar wood, Carnation,Sandalwood
DRY OUT: Amber, Agarwood, Vanilla
CHARACTER: oriental, woody, amber
FEELING/ CONCEPT: a timeless male scent, intense, gentle

Pepper/Jasmine/Gaiac Wood/Passion Fruit:
TOP NOTES: Sandalwood, Anise, Vanilla
HEART: Jasmine, Passion fruit, Gaiac wood
DRY OUT: Pepper, White Chocolate, Peach, Green Hop
CHARACTER: spicy-oriental with 'golden' like notes
FEELING/ CONCEPT: an unusual warm, precious scent for both men & women who seek out an individual character fragrance
Each 100 ml Eau de Toilette retails for £38.

Available at Liberty of London, beautyexpert.com, mankind.com
Stay tuned for more on these fragrances.
(Via press release)