A Polyphonic Interview with Prince Nicolo Boncompagni Ludovisi, Perfumer Lorenzo Dante Ferro, Public Relations Godfrey Parkin {Passion for Perfume - Portraits}
As we announced previously
, two historical perfumes - or ought we rather to say historicized perfumes -
L'Aurora
and
Giove Nettuno Pluton
e were recently re-created by Italian perfumer Lorenzo Dante Ferro for the Prince and Princess
Boncompagni Ludovisi
based on ancient archives of the family but also on two love stories spanning the centuries and the magnificent art of
Villa Aurora
in Rome in particular its frescoes by Caravaggio and Guercino. We wanted to chronicle the history of these perfumes if at all possible with the help of the actors who were involved in the project. Although I was initially offered to direct my questions to Lorenzo Dante Ferro, I soon had to realize that both an obvious passion for the project and scrupules about having everyone's input turned the traditional format of the interview into a charming polyphonic interview with interventions from HSH Prince Nicolo Boncompagni Ludovisi, Perfumer Lorenzo Dante Ferro, Public Relations Godfrey Parkin, but also more in the background yet present, the new Princess Rita Boncompagni Ludovisi and Cindy Ferro.
I want to thank Godfrey Parkin for his notes-taking and synthesizing of the information. I hope that our readers will thoroughly enjoy, as I did, the language of love of perfume
. A Polyphonic Interview with Prince Nicolò Boncompagni Ludovisi, Perfumer Lorenzo Dante Ferro, Public Relations Godfrey ParkinTSS - Could you please tell us more about the original historical perfumes that were the inspirations for L'Aurora and Giove Nettuno Plutone as well as the centuries-old association of the Ferro family of perfumers with the Prince's family?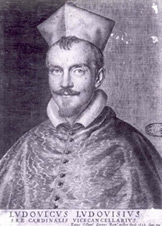 Principe Nicolò Boncompagni Ludovisi I, then Prince of Piombino, in the 1630's, was married three times. Two of his wives died and the third wife was Princess Costanza Pamphili, niece of the then reigning Pope Innocent X. Principe Nicolò was deeply in love with Costanza who, it has been noted, was quite intrigued by fragrances. The then Principe di Piombino, also Patrician of Venice, Grandee of Spain, Prince of the Holy Roman Empire vowed to give his betrothed a unique gift which would please her. The prince conferred with a selection of artisans in Murano, where the Ferro family was prominent. This is the point at which the Prince is almost certain that the Ferro family and the Boncompagni Ludovisi family first encountered one another. This story has been handed down in his family for generations.
Prince Nicolò I set about having a beautiful glass perfume decanter created, in Murano, to present to his future bride, Princess Costanza Pamphili. As Lorenzo Dante Ferro states, "You would not have perfume without the beautiful glass that protects the precious fragrances."
(Principe Nicolò Boncompagni Ludovisi I in picture above)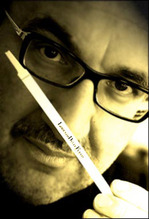 I discussed with Lorenzo how he came to be involved with the Principe and Principessa Boncompagni Ludovisi. The Prince and Princess were attending a dinner party, in Rome, and Lorenzo and his wife, a Texan like the Princess, were talking about their love of fragrances. The Prince realized immediately that he would like to present his fiancée with a perfume to commemorate their engagement; just as Prince Nicolò I had presented a perfume to his Princess Costanza. The Prince also recognized the Ferro name. As Lorenzo and the Prince began to chat they realized that they had much more in common than they realized, a history of sorts....
(Perfumer Dante Lorenzo Ferro on the right)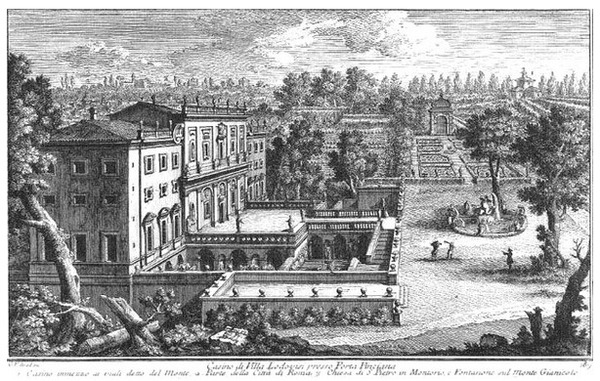 The Ludovisi Gardens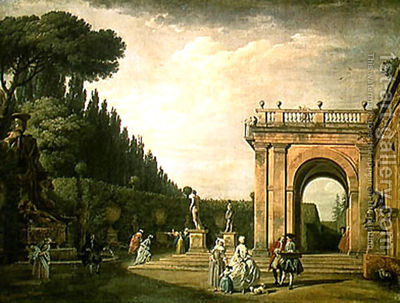 The Ludovisi Gardens by Claude-Joseph Vernet, 1749

TSS- - It is fascinating to learn more if we could about the material context of these perfumes' formulae -- could you give us insights into the books or manuscripts in which they were found?
Lorenzo asked the Prince if he had a formula for the perfume Nicolò I presented to Costanza Pamphili. The Prince stated that he thought the formula resided in the Secret Boncompagni Ludovisi archives, at the Vatican. When the Ludovisi Gardens, designed in the 17th century, by André Le Nôtre (he was the architect of the gardens of Versailles), on the area once occupied by Horti Sallustiani, were destroyed in 1883, the then Prince of Piombino, the current Prince of Piombino's great, great grandfather, donated all of the family documents to the Vatican. His palace is now inhabited by the American Embassy in Rome. Today, the Boncompagni Ludovisi archives are a 7 ½ mile area that occupy a portion of the secret Vatican archives.
Prince Nicolò Boncompagni Ludovisi set about his search in a methodical manner. He finally obtained fragments of the original formula and, incidentally, another formula which he named Giove Nettuno Plutone.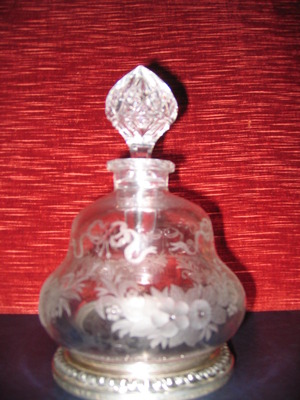 The crystal perfume decanter having belonged to Léontine de Choiseul Praslin, the grand-mother of Prince Boncompagni Ludovisi. Its perfume remnants were used to recreate L'Aurora

TSS - What are the doses of historical imagination and interpretation that were used?
The Prince once again conferred with Lorenzo Dante Ferro and gave him the remaining fragrance which was used by his grandmother, Nicoletta whose mother was French and which had liquid remaining in the crystal decanter he intended to present to his fiancé. The base is made of solid sterling silver, the crystal decanter is Baccarat. On the base is engraved, "A MA PETITE FILLE LEONTINE DE CHOISEUL PRASLIN B.C.P 1858." Again, it was handed down in the family and it is thought this is a recreation of the perfume Nicolò I made for Costanza Pamphili. Maestro Ferro was able to compose the fragrance from notes of the document which Prince Nicolò Boncompagni Ludovisi gave to him and the remainder of the perfume used by the Prince's grandmother.
TSS- What were the original names for the fragrances?
One was marked Principessa Costanza and the other had only a number, 1610, some sort of code.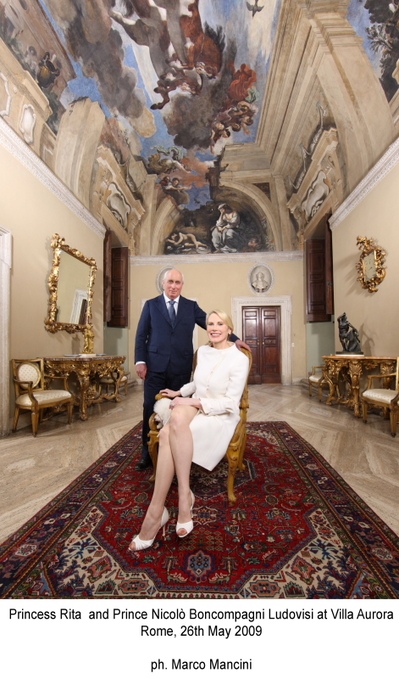 TSS - How involved were the Prince and Princess in the creative process?
Yes, the Prince, initially, and the Princess, currently, are and were actively involved with bringing this perfume to the public's attention. The Princess was so thrilled with her gift that she immediately commissioned Lorenzo Dante Ferro to produce 65 bottles for her Harvard Business School reunion, which took place at Villa Aurora, in October of last year. Her classmates loved the perfumes and kept asking where they could order more. One classmate in particular, Wences Caseras, a young entrepeneur from South America, demanded that Rita produce the fragrances for the general public, stating, "Rita, every time I wear Giove Nettuno Plutone people ask where can they buy this fragrance. I have tried all the leading men's colognes and I cannot find anything comparable."
The Princess, then, in conference with her fiancé, now husband, decided to do a limited edition to mark their marriage which took place on May 27, 2009. You can see a photo taken in the Aurora room. She is wearing a white Valentino creation.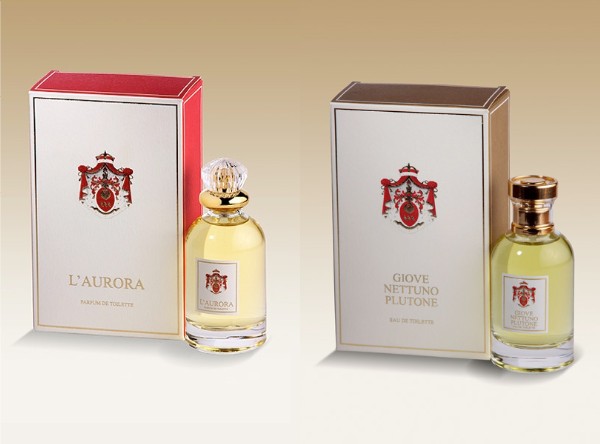 TSS - It is striking to see that each composition makes use of more than 200 ingredients. Were formulae very long then?
The Maestro, as you stated, used a composition of 200 of the finest ingredients, in each fragrance. As you stated, the formula was not as long in the 1630's as it is today. After all, the first recorded mention of perfumes came about in the 1550s. Lorenzo Dante Ferro felt a profound historical obligation to replicate the perfumes and stay true to the original intent of the fragrances.
TSS- Giove Nettuno Plutone is originally a man's fragrance from the Renaissance. Were men's perfumes significantly differentiated then or did you have to translate the perfume into a more modern masculine code?
The men's and women's perfumes were rarely significantly differentiated. However, maestro Ferro stated that he was taken by the masculine notes of the original formula. Again, the maestro tried to stay true to the original fragrance. It was not an easy task but then rarely, he said, is anything worth having easy to accomplish.
TSS - To go back to L'Aurora, one of its main aspects is that it has that erotic perspiration note based on certain spices like cumin and caraway as well as in this case the lingering spiciness of the sandalwood in the base notes. Was that a historical, sought-after aphrodisiacal effect?
Lorenzo Dante Ferro and the Prince were mesmerized by the sensual and erotic fullness of L'Aurora. Yes, as you stated, it was a historical, sought after aphrodisiacal effect. Maestro Ferro said, "And, indeed it has such an effect when the wearer walks into a room. It is hard to ignore but in a subtle, elegant way."
TSS - When Lorenzo Dante Ferro interpreted the perfumes next to the frescoes of Guercino and Caravaggio found in Villa Aurora, what are the touches that were added that reflect those pictorial, artistic sources of inspiration?
Lorenzo says that, "Having met the Princess and the Prince I wanted to reflect their great love for one another, as well as their beauty and elegance. To me, Princess Rita is like the goddess Aurora, who brings dawn into the night and Prince Nicolò is like the 'Knight in Shining Armor', that every young girl dreams of marrying. Their love story, to me, is a real fairytale come true and through this ancient and secret formula I was able to interpret the current day Prince of Piombino's love for his Princess Rita. The world is so full of tragedy, regret and sorrow. I wanted, through my perfumes, to create the mystical magic of love that two people from different worlds have found together. The two fragrances, for me, exemplify a beauty that is timeless, exclusive, and immortal. A beauty we all seek to achieve. I feel I have captured and interpreted a love that has spanned the ages. To me, any woman of quality who wears this fragrance will feel just like a princess. Of course, the Caravaggio is earthy, masculine, sensual and noble. It is not subtle but it is not loud. It is what Prince Nicolò represents. When Princess Rita and Prince Nicolò walk into a room, all eyes turn to look at them. People nod, people talk, they nudge one another. I have seen this myself.That is what I wanted to present and I think I have succeeded. It is one of my finest moments."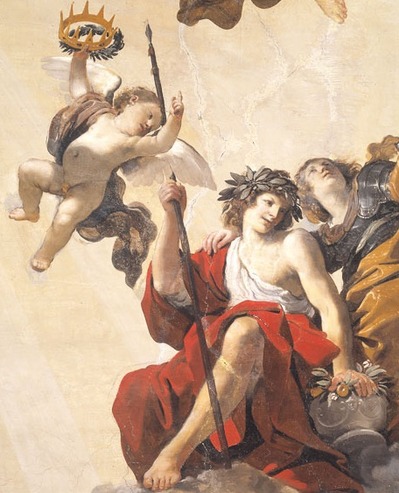 La Fama by Guercino, detail

Another intriguing aspect of the fresco and Caravaggio ceiling painting: L'Aurora is considered Guercino's masterpiece and Giove Nettuno Plutone is the only ceiling painting done by Michelangelo Merisi (Caravaggio). Both the fresco and the oil on plaster painting have many signs of the Illuminati. Beyond that, another fresco by Guercino, which resides on the 1st floor of Villa Aurora, La Fama, has ten secret messages, which have yet to be deciphered. Isn't that interesting?
TSS - Lorenzo Dante Ferro says that inspiration came to him "in a mystical moment..." Should perfumery creation not shy away from the mystical in accord with its religious roots?
To Lorenzo Dante Ferro, creating a fragrance is a mystical experience, which imparts a unique identity to each man or woman who selects the fragrance. He personally feels that creating a perfume is a very serious art, which cannot be learned but one that must be deeply felt by the artisan. He said, "Only the maestro profumiere knows when the art of creating a perfume is complete. There is a romance to the creation or the rediscovery of a fragrance, as in the case of L'Aurora and Giove Nettuno Plutone. It is a delicate combination of instinct and artistry. Again, this is the romance of art. It cannot be learned, it is instinctive, visceral and emotional. A fine perfume can tell you as much about the wearer and selector of the perfume as a pair of shoes indicates social class, manners and taste. No woman should marry a man before he buys her a perfume. It will tell her all she needs to know about the man with whom she hopes to spend her life. If the perfume is tawdry and unappealing, run do not walk away from this man. However, if the bouquet is full, complex, intriguing, alluring and full of surprises, then she has found her man. After all, our sense of smell is one of the most romantic senses we possess. It can evoke memories, love stories, forgotten dreams and lost desires."
"I feel that I was commissioned a work of major proportions. It was fate working that night when my wife, Cindy [Cindy Zach Ferro on the left], and I met the Prince and Princess and fate that we found the old formula, the liquid in the Baccarat decanter. It was a mystical experience, almost surreal in today's time. I think it comes through in the perfumes the Prince asked me to create for his Princess. The perfumes are mysterious, intriguing, romantic and above all unique."

Villa Aurora