Perfume and Theatre Mingle in The Shipwrecked House {Scented Thoughts} {Passion for Perfume - Portrait}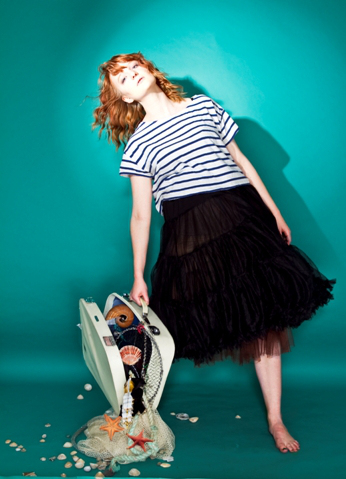 Claire Trévien in The Shipwrecked House
Sarah McCartney is the perfumer and founder of 4160 Tuesdays, an independent, London-based fragrance house. The name of her brand, she came up with looking at a possible death date set on an 80th birthday - a reasonable enough estimate but a bit pessimistic, one might argue. Just the other day, Sarah, I listened to a segment on longevity on French TV and a specialist was aiming much higher, theoretically saying that a 30% increase is possible on maximum current longevity rates, which gave a possible longevity of 160 years for someone born very recently.
Apart from her philosophical interest in mortality, Sarah is a writer and a perfumer, and in fact her interest in perfumery stems from her interest in literature. Next week, a play by Claire Trévien, The Shipwrecked House, is on at Canada Water Culture Space, on Thursday 13 November, 7.30pm for which she has created two "dramatic" perfumes. She tells us about her anticipation of the experience in an article entitled "The Shipwrecked House - The Scents". I then ask her more questions about the behind-the-scenes of this new project as well as on her itinerary as a perfumer in a follow-up Q & A to her piece. Please read after the jump...
The Shipwrecked House - the scents
by Sarah McCartney
Guest Contributor
I have the world's best job; I make handmade perfume. There are difficult parts, like the EU cosmetics laws, and that posting perfume overseas is illegal because it's classed as "Dangerous Goods". Growing up in South Tyneside, when I talked about the future with the Boldon Comprehensive School careers teacher, this was never on the list, but here I am.
Claire and I hadn't met before but we'd worked on a poetry and perfume project, Penning Perfumes. This was a wonderful creative collaboration run by Claire and Odette Toilette, organiser of fascinating scented events, and I made the scent of the bottom of the ocean, The Opposite of Roses. The poet wanted a muddy scent of decaying fish. That was excellent, as it's a dark reflection of the usual perfumery project.
Claire is a big fan of one of my more attractive scents, a fruit, flowers and resin blend called Urara's Tokyo Café - that one really was designed to be put on the skin and worn like normal.
Most of the time I'm making scents for people to wear, but my new projects including ten scents for the Ten Commandments and one that evokes a Shoreditch Street. I'm also making Meet Me On The Corner, a scent of the 70s from before people had mobile phones, inspired by the Lindisfarne song.
When Claire asked me if I'd be interested in creating the smell of The Shipwrecked House, of course I was. It has two parts: the house and the sea.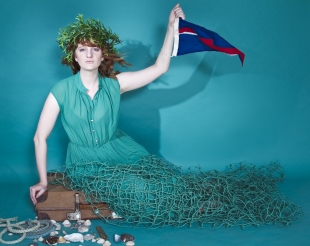 For the sea, I'd already made a seaside smell. We call them accords in the world of perfume - notes blended together to make a chord, the same as music. Mine was to evoke the scent of rock pools in Scarborough, paddling about on my childhood summer holidays. This one needed to be more threatening so I took the original and I added a new synthetic molecule which is called Maritima. By itself I found it pretty disgusting, and it gave my seaside accord an appropriately nasty kick. This was a sea that could drown you, not one to play wave jumping and skipping stones. It's the point where your parents see the waves growing higher and bribe you away from the beach with an ice cream. So I added a bit more Maritima to make it deeper and more powerful.
For the house, I used woods - again, both natural and synthetic materials. I wanted it to feel like a safe place, a warm, welcoming simple space.
Naturals - essential oils, absolutes, or CO2 extracts - are usually made from about 300-600 odour molecules, all grown by plants. Synthetics are one molecule at a time, made in a lab. I've had perfume experts smell a beautiful synthetic and tell me that "it's really complex!" Chemically they are really simple but they can trigger so many memories that they feel complex. I've also seen people wrinkle their noses in disgust at a "chemical smell" that's made entirely of natural citrus fruits, but reminds them of cleaning materials. You're more likely to get a rash from a natural than a synthetic perfume ingredient.
We have to be careful which woods we use. Some woods are unsustainable, others are seriously endangered. There's no Indian sandalwood left that's ethically produced, so in our world, we use a beautifully smelling synthetic. For our house, I aimed for a seaside shed, made from wood that still smells as you open the door and walk inside. It had to be able to diffuse around the room too, so I needed a powerhouse synthetic to make that happen. I'm giving secrets away here, but I think it's time to be more open about perfume. I used two kinds of cedarwood, plus some smooth, strong, safe synthetic woods, molecules that the trees can produce naturally, but made in a lab instead.
Combined, I hope we get the olfactory impression of what Claire imagined; a house, shipwrecked.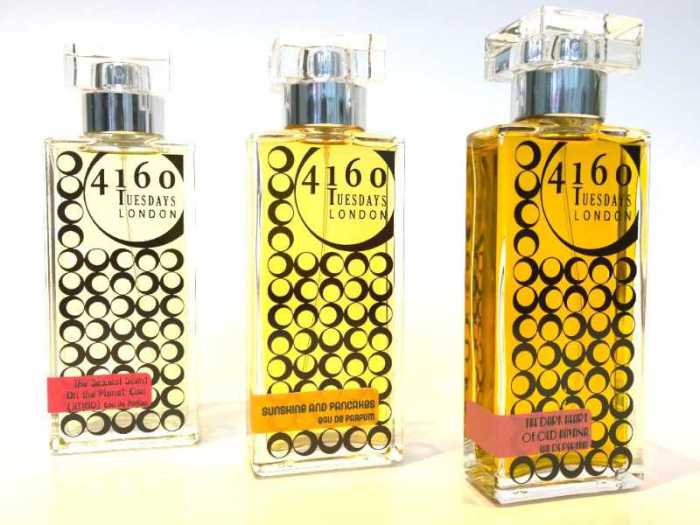 Perfumer Sarah McCartney
Passion for Perfume - Portrait
Q & A with Perfumer Sarah McCartney
Chantal-Hélène Wagner - How did you become a perfumer?
Sarah McCartney - For 14 years, I worked as the head writer for Lush, the fresh handmade cosmetics company. At first, when the company was tiny, there was only me. By the time I left I was training writers in 40 different countries to write in the style I'd developed: a friendly conversation with a customer. I learned a lot in this time about describing perfumes, and also began my fragrance collection, now nicknamed The Wall of Scent.
I decided to take a little time away to write a novel, the story of a perfumer who creates the scents of happy times to solve people's problems, and tried to find perfumes which matched the ones I was describing in the book. They didn't exist, so I put my theoretical knowledge into practice and started making them myself.
I learned a great deal from Karen Gilbert who runs really useful courses on artisan perfumery, and from Stephen Dowthwaite, the Thailand based maverick owner of Perfumers World. He learned his craft as a teenager in British perfume factories which made a living copying French classics. He's very funny, irreverent and knowledgeable, and he has developed a ruthlessly quick method - plus software - to hammer out very acceptable commercial perfumes. He trains the in-house perfumers from some huge companies who he's not allowed to mention. I don't use his method, but his training is fascinating.
As an outsider it's easy to get access to natural materials in small quantities, but very hard to buy synthetics, or even to smell them to find out what they are. Karen and Stephen opened those secret doors for me, so I could get beyond the aromatherapy blend and light cologne style of perfumes that many artisan perfumers are restricted to.
I'd met Odette Toilette, first online then in person, who invited me to speak and present my perfumes at one of her Scratch+Sniff events. There I met the owner of Les Senteurs, the London niche and indie perfumery, and Josephine Fairley, founder of The Perfume Society. At that point, I had to get my fragrances ready to sell, and that was the start the process that turned me from hobby scent maker to craft perfumer.
(I never did go back to Lush.)
Even now, there are so many arguments about what a perfumer is, and what you have to do to deserve the title, I tend to say "I make perfume" and describe what I do, not what I am. My customers don't seem mind that I didn't go to perfume school.
CHW - Can you give us a short summary of The Shipwrecked House? How long does the play last?
SMcC - The Shipwrecked House is a book of 43 poems in many styles, some of them featuring the coast and the sea, and taking in London and Paris as well as Brittany, Claire's original home.
When Claire got the chance to turn her poetry book, into a one woman show, we talked in detail about how to make the scents work within it. At that time she and the publisher still had no idea how they were going to make it all work. It was due to play at one festival, but it was so successful, since then it's been on tour around the UK.
Claire Trevien and I had both worked on a project she jointly ran with Odette Toilette, Penning Perfume. I made the (unwearable) scent of the bottom of the ocean for a poem about mermaids, and she fell in love with one of my much more pleasant creations, Urura's Tokyo Café.
CHW - Why did you decide on just two scents rather than make more to make them participate more in the story line? Was it because it would be technically challenging?
SMcC - When the project first began, Claire emailed to ask me if I would be interested in making two perfumes - house and shipwreck - but not to do anything until she confirmed that the project would really happen. Naturally, I was thinking about what I would do, because once an idea like that is suggested, you can't help but imagine.
Claire and I met at my studio with her publisher, Tom Chivers from Penned in the Margins; to discuss how we could make the perfumes work in a small space at a literary festival.
One issue is always what happens which scents blend with each other; you can't make one go away when you're performing in a small tent. There's no budget for a beautiful Frederic Malle style air cleaning machine. They will build and blend, so we either have to use quickly dispersing top notes, or layer them.
In this case, with a house followed by a shipwreck scent, we aimed for a comforting homely feeling as people entered the room and took their places, then for the shipwreck to be threatening and cold - with the two combined to create the conceptual Shipwrecked House of the title.
CHW - How did Claire Trevien use your scents during rehearsal? What reactions did you get to your home scent and the sea-side one?
SMcC- I'm going to see it next week when it reaches London and I'm trying not to take my preconceived ideas into the room with me. I will be listening in. I almost hope that the scents will gently create an atmosphere without intruding so people won't know why they feel comforted, then the total opposite.
CHW - If you were to offer mini reviews of each, how would you describe them to those who won't be able to smell them?
SMcC- House: imagine that you visit a seaside home built in wood, by the beach. You only go there in summer and the rest of the time it is closed up. Each time you open the door for your summer holiday you have a familiar, friendly scent of worn, warm wood,
Shipwreck: the sea on a bad day, grey, threatening and frightening, dark and deep. Waves which are going to engulf you and beat you, try to drown you, salt water in your mouth and nose.
CHW - Did you think of them only as room fragrances or "dramatic fragrances" with particularly moving, emotive and atmospheric ingredients? Do you feel you proceeded differently to create their evolutions for instance?
SMcC - Oh my goodness, you would not want Shipwreck in your home, not unless you're edging towards the psychopathic. It is intended to unnerve people and make them very uncomfortable. It didn't cross my mind that these would ever transfer to the commercial market.
That said, House would smell pretty good in a real home.
I only make these scents in the quantities I needed for the events themselves, but I do have everything on file so I could make them again if I needed to.
So, definitely dramatic when I'm creating them; if they turn out to be usable in other contexts, that's a happy coincidence.
CHW - Are there many olfactory observations in the text itself?
SMcC - There is very little in The Shipwrecked House that mentions smell, and the two places that refer directly to it both describe bad stinks. It evokes places in other ways though, so that as a scent creator I start to imagine what those places would smell like, although Claire doesn't use words for them.
CHW - What technological system did you use to diffuse the scent in the room? It seats how many people?
SMcC - It's been performed in many different venues, some small and some even smaller. We had to plan on adapting the scents to different spaces so we decided to have the House fragrance on the upholstery and fabric and floor of the rooms as people arrive, then the spray the Shipwreck on to curtains which also serve as ships' sails. They move as if they're blowing in the wind, wafting the fragrance into the audience. I'm fascinated to see what happens in the space next week.
The very basic technology is one person walking around with a bottle spraying the fragrance around the place before the doors open, and another one squirting it on to big white sheets. Then again, that's what Diaghilev did, so it's in the grand tradition.
CHW - Have you yourself experienced olfactory theatre before?
Not exactly, but there are two theatrical scents I've worked on, and I've worked on different arts projects to evoke a sense of place.
Earlier this year there was the most amazing performance of the Debussy String Quartet, live with a multisensory experience - touch, taste and scent - everything but sight. The performance was created by the marvellous, very young and amazingly talented Stephanie Singer of BitterSuite, whose aim in life is to bring classical music into the lives of people who have been excluded from it.
I made fragrances to illustrate, illuminate or enhance the music. It's difficult to find the words to describe exactly what we did, but it was a fabulous experience. People laughed and cried with joy and loved it.
For the Debussy, we used cloth for some scents, opened boxes for one and at the end, sprayed the air with a fragrance I'd made to represent a river broadening, calming and reaching the sea.
Again, the issue is that you can't turn scents off once they are out there, so you have to use their particular properties carefully or the air will turn to mush.
Through BitterSuite, I met the Royal Shakespeare Company actor Arthur McBain, one of the performers at that event, and together we have created a fragrance, The Rehearsal Room, to bring to life a poem he wrote about arriving at the RSC rehearsal space. Arthur wears that one, because although it's the fragrance of a particular room, we wanted to make it suitable for human skin. We might launch it next year.
Other interesting art fragrances...
For a final year show at the Glasgow School of Art, I made the scent of a tropical banana plantation, and I've been to one in Costa Rica so I knew what I was aiming for. It would be wearable.
I made Rome 1963 to scent a London pop-up art house, bar and restaurant, The House of Italian Style, for Peroni Nastro Azzuro, to celebrate 50 years since the beer's launch. I made this one with Italian stylist Silvia Bergomi, and it was inspired by a scene in Fellini's Giulietta delli Spiriti; a warm pinewood, tobacco and white flower fragrance. It wasn't allowed all over the house; visitors could put their heads inside a big glass sphere and get the impression of being in the woods outside Rome on a hot day in 1963.
We liked this one so much that I decided to make it for my customers to wear, then once I had the idea of making fragrances from materials which were around in certain eras, I started to make more. That's how Paris 1948, New York '55 and London 1969 came about. I have ideas for a Newcastle one (my school years) and Buenos Aires 1933 when tango was first danced in La Boca.
The Shipwrecked House will play at Canada Water Culture Space, on Thursday 13 November, 7.30pm
Suitable for ages 14+
Latecomers will not be admitted
£10, £8 concs
Box Office: 020 8692 4446