Lolita Lempicka Si Lolita (2009): The Wonderful Perfume of Happiness {New Perfume}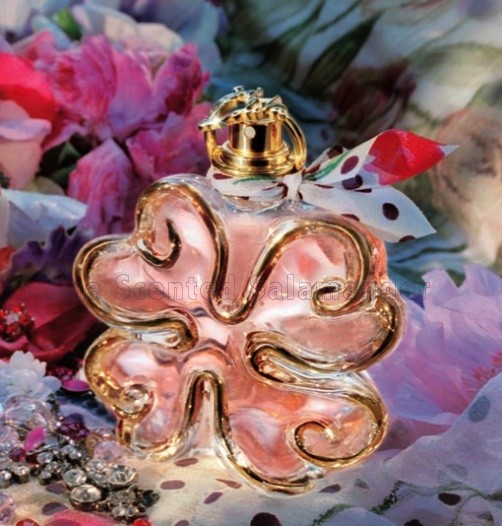 Designer
Lolita Lempicka
is preparing to introduce a new women's perfume called
Si Lolita
presenting all the trappings of the magical Lempicka universe but this time the woman that is envisioned is not so much an otherworldly creature than an adorable Parisian living in an enchanted and enchanting Paris "...
smiling to a passer-by for nothing, running towards her love with, in her sillage, this wonderful perfume of happiness, Si Lolita
".
The perfume is presented as a "
revisited masculine
" and an illustration of the "
cheeky temperament that spices have when put in the feminine
". The perfume is said to rely on the secret fresh spiciness of sweet pea...
The fragrance was composed by perfumers
Christine Nagel
and
Benoist Lapouza
of Fragrance Resources. The composition promises to offer unexpected phases of development while keeping the spicy theme running throughout in a perfume offering a blended and sensual feel.
Si Lolita
opens on top notes of pink pepper, bergamot, mandarin leading to a floral heart with notes of wallflower, snow pea and heliotrope. The base notes rest on elemi, amber, patchouli, tonka bean.
The flacon continues to demonstrate the high standards that Lempicka apply to perfume-bottle design with yet another jewel-like bottle. The design represents a clover leaf for good luck containing "four hearts",
A heart for happiness
A heart for chic
A heart for dreams
A heart for flowers


The neck of the bottle is decorated with a polka-dotted chiffon scarf and the clasp is like a piece of jewelry engraved with the name of the perfume.
Expect to see the new scent from August 2009 in France. Prices are: 84 € for 80 ml, 65,40 € for 50 ml and 49 € for 30 ml.
Via press release