Parfums Regine's Zoa Night Perfume (2009) - Regine Meetup at Colette on June 13th, 2009 {New Perfume} {Celebrity Fragrance} {Scented Paths & Fragrant Addresses}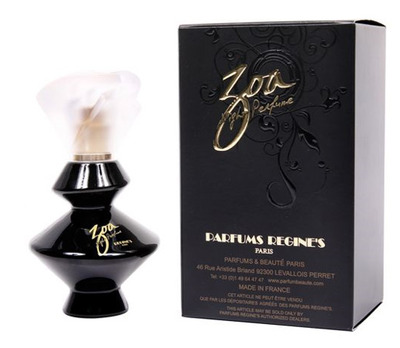 Singer, night-club franchise owner and self-described creator of the modern disco night scene
Régine
has launched a new fragrance twenty years after her debut perfume which bore the name Regine's. The new scent is titled
Zoa
after a song on her repertoire from 1966 and subtitled
Night Perfume
...
The flacon mimicking the movement of a twirling dancer is designed by
Thierry Lecoule
and
Stéphane Ganneau
and is the same as the original one except that it is now dressed in black.
The perfume described as an ambery and powdery floriental was developed with Parfum et Beauté and composed by
Emilie Coppermann
of Symrise. It features floral notes in its heart of peppery rose, orchid and peony.
To add a little cultural hip factor to the image of the perfume, Zoa Night Perfume was introduced at Colette in Paris on June 2, 2009 and will run there exclusively for 99 days. Régine herself will be there to sign her perfume on
June 13th 2009 from 4 to 6 pm
.
Three sizes are available from 27 € to 60 € and
can be purchased online here
.
Via
FashionMag.fr
; Colette