Penhaligon's Anthology L'Eau de Verveine, Extract of Limes, Gardenia, Night Scented Stock (2009): From the Scent Archives {New Perfumes}
British perfume house
Penhaligon's
established in 1870 will launch a set of four perfumes next month in a new collection entitled
Anthology
. The purpose of the Anthology is to propose to the public remastered versions of antique, discontinued formulae from the house....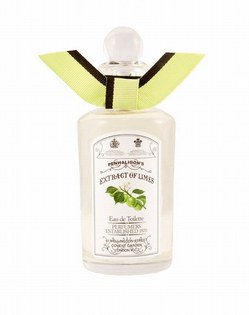 The first series will comprise
L'Eau de Verveine, Extract of Limes, Gardenia,
and
Night Scented Stock
.
L'Eau de Verveine
is said to offer a bucolic character with notes of musk, vanilla and crushed grass blades.
Extract of Limes
is made with flavorful lime from the West Indies and lemon essential oils full of zest.
Gardenia
is said to rest on a clever blend of jasmine and vanillic spices.
NIght Scented Stock
illustrates a main contrast between the warmth of clove and the freshness of musk.
The Anthology collection will be available starting in July 2009 in the Penhaligon's boutiques. A 100 ml flacon is priced at 110€.
Via
Joyce.fr