Acqua di Parma Magnolia Nobile (2009) {New Perfume}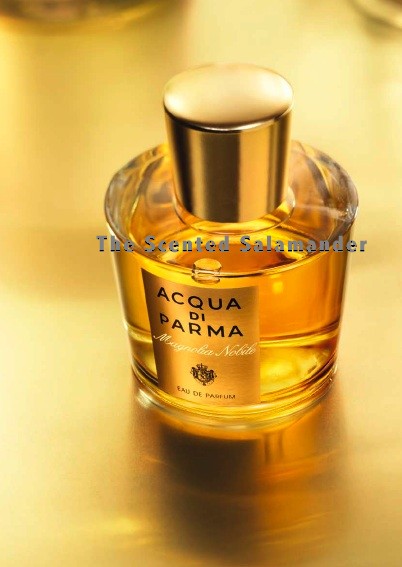 {A
fragrance review of Magnolia Nobile by Acqua di Parma
was added to the blog!}
With
Magnolia Nobile
, the new fragrance from
Acqua di Parma
to be introduced from September 2009, one is invited to take a moment of respite by the shores of lake Como and to inhale the scent of magnolias that grow in the gardens of the "
prestigious Italian villas
" of the area.
The white floral trail of the composition is said to sign the presence of a woman who epitomizes femininity and refinement. The fragrance targets an exclusive clientele as alluded to in the ad copy,...
This is being "niche" in the sense of not being afraid to identify a core audience, however small a group they might be. It is not being "niche" just in name and wanting to please as many people as possible. According to the press materials, the scent evokes,
"...a woman with a sophisticated femininity who intensely lives in her era according to an exclusive sense of style deeply linked to the values of tradition; a woman very refined, charismatic, unforgettable, who does not need to attract attention. Her innate charisma is unveiled little by little and captures your heart for ever. Her authentic elegance is borne out of the pleasure to recognize herself in a perfume as noble as the woman who wears it."


The fragrance which was composed by perfumer
Antoine Maisondieu
opens on top notes of bergamot, lemon and cedrat, in keeping with the chic Eau de Cologne reference of the house Acqua di Parma beloved by too many renowned people to do a head-count. The floral heart develops a bouquet of magnolia made more complex by rose, jasmine and tuberose. The base notes are said to be rich and elegant with deeper notes of sandalwood, patchouli, vetiver and vanilla.
(Via press release)