Sahlini Femininde (2009) {New Perfume}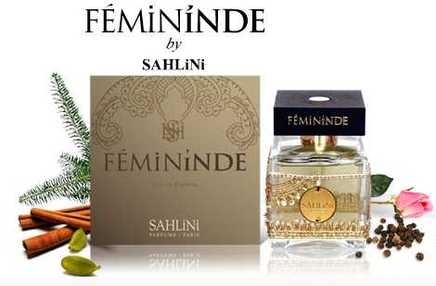 Perfume brand
Sahlini
founded in 2006 is continuing to expand its portfolio. After the initial
La Femme and L'Homme
followed by La Femme en Noir and L'Homme en Noir which were collector versions of the originals with a slightly tweaked formula of more intense jasmine and patchouli notes for the women's scent, the latest fragrance is called
Fémininde
...
Founder
Cécile Martin
who is Indian and French continues also to pay homage to her Indian roots with a hint of Bollywood twist. The new perfume flacon is decorated with jewelry made of bindi charms. The name is a contraction of "fémininé and "Inde", "femininity" and "India".
The Eau de Parfum is described as a spicy and musky floral. It features notes of Orange Brazil, Indian cardamom, black pepper, rose absolute, Javanese vetyver, cloves, cinnamon of Ceylan, Egyptian cumin, fir balsam and sandalwood.
A 100 ml bottle is priced at 99 €, a 50 ml one at 79 €.