Avril Lavigne Black Star (2009): More News {New Perfume} {Celebrity Scent}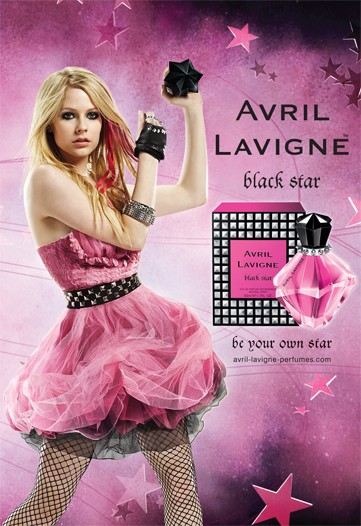 As previously announced with the
early discovery of the story board
for the commercial, singer
Avril Lavigne
has started to introduce her debut fragrance,
Black Star
. It will progressively roll out to different European countries. The UK will see the launch in 25 days.
The perfume is described as a floral oriental by Douglas perfumery although Lavigne herself preferred to stress that it is very fruity and floral by pointing out a "high note" of pink hibiscus, a heart of plum and some chocolate...
No much more information is divulged about the rest of the notes in the fragrance, an eau de parfum, except for a top note of "green pear".

From the dedicated website,

"Black Star is a fruity floral fragrance that combines the delicate scents of the pink hibiscus flower with addictively delicious black plum and dark chocolate!
The notes blend to create a swirling, sparkling cloud of fragrance, for a truly energetic scent!
Avril about the fragrance: "When I created the scent, I knew the fragrance had to have dark chocolate... I was thrilled to be able to incorporate such an unexpected element into Black Star."

"This beautiful faceted bottle comes with an unexpected twist - a removable studded ring accessory - to capture Avril's distinctive rock-glam style - a perfect fusion of punk and pretty. Further celebrating Avril's punk flair, the Black Star outer-packaging was inspired by her favorite studded leather wrist band.
Avril about the bottle: "I really love unexpected combinations like pink and black... and fun accessories like stars and studs. This is what you'll see in my perfume bottle. In fact, I almost wanted the bottle to become an accessory so the studded collar you see is actually a removable ring that people can hang around things like necklaces."

You can watch a video of a public presentation of the fragrance by Lavigne,
Here is the commercial,
Here is the making of the commercial,
Black Star notes recap: green pear, pink floral hibiscus, black plum, dark chocolate