Chopard Cascade (2009): Drunk Insects & Beautiful Widows {Perfume Review} {New Fragrance}
The European advertising for the fragrance featuring model Michaela Hlavackova

Perfumers: Béatrice Piquet and Juliette Karagueuzoglou of IFF

Perfume notes: top: pink pepper, grapefruit flower, mandarin; heart: Belle de Nuit, Evening Maiden Orchid, Heliotrope; base: Living Precious Woods, musk, amber.
Cascade is the new perfume by jewelry brand
Chopard
. It comes with the recommendation that it features an original accord of Belle de Nuit flower. The composition is like a medium-bodied oriental showcasing a floral metaphor of femininity through the intoxicating and complex scent of the Belle de Nuit.
Voir Venise et puis mourir, to see Venice and then to die
they say. I think, at times, when catching a whiff of the floral accord in Cascade, to smell the Belle de Nuit and then die. If my needs were those of an insect, I would certainly follow suit....
The advertising for the Middle East. The model now is covering her shoulders and wearing a black outfit that resembles traditional clothing. Her hair is slightly darker.

It is uncommon to experience the feeling of encountering a rare naturalistic olfactory sensation in a designer perfume, but here the floral accord is truly intoxicating and unusual if not new in the absolute sense since there is a Belle de Nuit by Fragonard. It however feels new. I note in passing that the bottle by
Patrick Veillet
, although well done and rather pretty, could certainly have been more luxurious. Smelling the perfume, I am glad the brand decided to give more central importance to perfecting the floral accord, which is in and of itself a little jewel. It also literally seems to behave like a multi-faceted diamond reflecting the lights. Each time, a new facet appears.
What is also compelling to me in this composition is how uncluttered, focused, and to-the-point it is. It is not a soliflore per se and I think the reason why is that the presence of the flower or flowers is easily perceived as being metaphorical of the presence of a woman deploying all her arsenal of seduction, with this hint at the scent and texture of skin under the Belle de Nuit. Yet at the same time the scent projects outwards like a sigh of desire rather than the flicking of a lasso. In my representation of the flower, it is clear that it is not one standing at the end of a stem, but one that has been applied onto the skin, and even if you were an insect the flower would be touching you.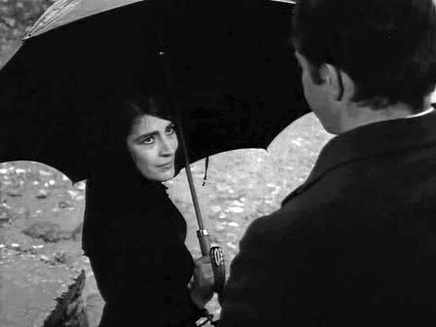 For me Cascade signs the presence of a woman that has the intensity, the beauty and the slightly dangerous taboo character of a young widow clad in black furtively appearing on the scorching background of a Mediterranean landscape by the sea before we know anything about her story. Underneath its sensual and rich envelope there is a streak of severity and beauty evoking the silhouette of a traditional Sicilian or Greek widow half-hidden in black, yet just as intensely feminine. One thinks of Anna Magnani in The Rose Tattoo or Irene Papas in Zorba the Greek, women whose lives are simply and traditionally coded by the color black before passions unleash.
How It Smells
Cascade opens on citrusy then powdery musks, very quickly leading to both a soft and pungent balmy-resinous, marzipan almond-y stage with faint streaks of cherries and hazelnut (the heliotrope). The accord develops a warm, out-of-the-oven gentle bread-y note. After the initial powdery and resinous contrast made more luminous thanks to the citruses, the composition segues almost imperceptibly yet progressively into a honeyed floral core with a trace of cool aromatic aniseed superposing itself on the previous olfactory impressions. The floral accord is further faceted by olivine nuances which I usually associate with osmanthus. In my latest impression I capture some incensey nuances. The floral accord is complex and intensifies overtime.
The scent of the belle de nuit which opens its corollas around 4 pm then closes them by morning cannot be extracted by natural means so it had to be recorded thanks to headspace technology and then reconstituted by perfumers.
Béatrice Piquet
and
Juliette Karagueuzoglou
have done so in both an inspired and technically masterful way, superposing a multi-layered floral accord onto a warm oriental woody and balmy canvas. The effect is to liberate the intoxicating aroma of a heated Belle de Nuit, or if you prefer, a Belle de Nuit in heat, for there are undeniable sexual overtones.
The floral bouquet presents angular asperities and has a touch of aggressivity mimicking the angles of art deco style. Women who love come-hither florals with more than a pinch of the forward manner of the liberated woman will love this perfume. It is slightly powdery, offering the projecting scent of a flower. Its seductive character seems as simple and purposeful as a dagger, thrust in the middle of the night, a very sexual imagery.
The night blooming flower further develops into an an intoxicating scent with complex aspects of beeswax, vanilla biscuits, green grass blade, waxy florals, hot sand, and green olives. The perfume offers an addictive quality for those who are sensitive to, I want to say, imaginary magical potions of the 1001 Nights. As you can see I am ready to fly off on a magic carpet with this one
What becomes more obvious later on is the discreetly dissonant quality of the scent of Belle de Nuit ; there is a rapt sweet facet and there is a salty, unpretty, even slightly rotting fruity facet as if fruit peels had been discarded on the ground in the sweltering summer heat and become rank, in a good way, overtime. I would venture as far as to say that there are masculine overtones to that latter facet oscillating between the scent of sperm and a motorbike rider's leather jacket.
Cascade is a distinctive fragrance with a wonderful unique floral character. Nina Ricci is coming up with a Belle de Nuit fragrance in September called
Ricci Ricci
which it will be interesting to compare it with. The drydown is also slightly off the beaten track with its wet and a bit sticky texture. At the end I am left with the impression of having turned into an insect and experiencing its sensations while gorging myself on intoxicating fumes in the heart of a corolla. A discreet incensey facet adds to this subliminal impression of being detached from terrestrial obligations. I just want to drown in the nectar of the flower.
You can also watch
a behind-the- scenes video for the TV ad here