Enjoy England By George! (2009): A Symphony of the Nation's Most Evocative Smells {New Perfume}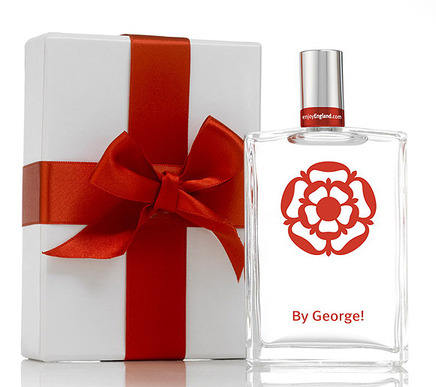 Tourism authority
Visit England
has launched a signature perfume called
By George!
as part of their
Enjoy England
campaign meant to promote domestic tourism with ideas of short getaways. The fragrance will remain a bit of a dream really as it is not meant to be a commercial venture but a limited-edition launch for a promotional giveaway purpose only.
The name of the perfume is the shortened modern version of the old English battle cry: "God for Harry, England and St George!". The design on the bottle looks like a stylized cross of St George turned into a flower.
The perfume actually sounds quite attractive. The composition makes the point that every English person is a gardener at heart.
The fragrance includes accords of seaside garden (see
Miller Harris Fleurs de Sel
), fresh vegetables (see also
Trussardi Essenza del Tempo
) and lawnmower exhaust fumes (see
Kate Moss & gasoline
).
"The heart of the fragrance takes a journey through an English seaside garden with salty sea air notes mingling with damp earth, garden mint, carrots and beetroots and freshly cut grass!"

"Opening with a hint of camomile tea, notes at the heart of the scent evoke an English seaside garden with salty sea air, damp earth, garden mint and freshly cut grass with woodland mosses at the base. For true authenticity, there's even a whiff of lawnmower exhaust fumes! "
As part of an invitation to discover England through the 5th sense, Enjoy England have listed the following typical English bouquets with tourism destinations appended to them:
Cucumber Sandwiches, Victoria Sponge ("A sponge cake scent with subtle lemon, smooth buttercream and sugary notes"), English Lawn, Seaside, Cricket Ball and Campfire.
You can enter a giveaway until August 15, 2009
here
.
You can read:
My National Parfum
Via
Hello Magazine
; Visit England press info