Upcoming 2010 World Shanghai Expo Inspires L'Eau de Parfum Pavillon France & Shanghai Bouquet (2009): Homages to Magnolia {New Perfumes} {Fragrance News}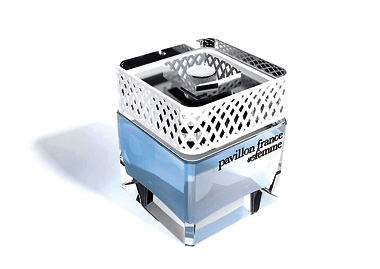 As a fore taste or rather smell of the upcoming
2010 World Shanghai Expo
(
Exposition Universelle Shanghai Chine 2010
) which will take place from
May 1, 2010 to October 31, 2010
, four fragrances, two French and the other two Japanese, were created to honor the official flower of the city of Shanghai, white magnolia.
L'Eau de Parfum Pavillion France
and
Shanghai Bouquet
are to be introduced soon, in order to help build up anticipation for the event.
L'Eau de Parfum Pavillion France
is a duo for women and men whose flacons are shaped after the French Pavilion. Alain Delon is the official god-father to the pavilion.
"Ylang-ylang, jasmine, plumeria rubra, peony, lilac, rose and musk were included for women, to represent "irresistible charm," while cardamom, mandarine, lotus, patchouli and sandal were used for men to reflect persistence and strength."...


Zhu Yonglei, directeur général adjoint du Bureau de coordination de l'Expo universelle de Shanghai ainsi que d'autres officiels présentent les nouveaux parfums.

A view of the upcoming 2010 Shanghai Expo site


"The France Pavilion, dubbed "The Sensual City," will showcase the sights, smells, tastes, sounds and feelings of France. The 6,000-square-meter pavilion on the Huangpu River will feature a large garden and water pool in the center of the structure, as well as water outside. The square building, its walls covered by plants, will appear to be floating in water.

Smell will be an important part of the pavilion. Visitors will whiff roses in the "Palace of Versailles" and cream rolls in the French cafes. The pavilion will make visitors "travel with their senses," said Serrano.

The perfumes will go on sale in China in September, priced between 80 yuan (US$11.73) and 90 yuan."
Shanghai Bouquet
is a perfume created by
Shiseido
. It comes in two 30 ml iterations that are not gender-specific but rather modeled after ideas of modern and old tastes.
"The perfume for Japan looks more Shanghai-style with its magnolia-shape bottle. The company designed two perfumes - one smelling fresh, representing modern Shanghai, while another is more dense, representing the old Shanghai."

"The "Shanghai Bouquet" costs 150 yuan a bottle and can be purchased soon in the city's tourism spots and hotels."


You can read more about the details of and historic background to the event here...
Also via
Expo Shanghai 2010
;
Chine Informations