Narciso Rodriguez New Limited-Edition Musk Collection for Her & Him: Narciso Rodriguez for Her Eau de Parfum Intense & Narciso Rodriguez for Him Eau de Parfum (2009) {New Perfumes}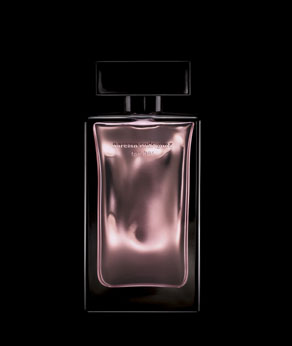 Narciso Rodriguez
under the umbrella of
Beauté Prestige International
(BPI) will further expand his collection of musk fragrances this fall with two limited-edition flankers which despite the similarities in names are advertised as being significant variations on the originals.
The new scents are presented as being part of a new line and titled
Narciso Rodriguez for Her Eau de Parfum Intense
and
Narciso Rodriguez for Him Eau de Parfum
....

"In addition to musk, the feminine scent features delicate floral notes of ylang-ylang, jasmine and orange tree flowers. The masculine fragrance is composed around a heart of musk, offset by notes of iris and pink berries.

The flacons were inspired by ancient Chinese snuff bottles, and are painted from within to achieve a light-infused glow and lustrous patina. The colour scheme of the for her eau de parfum is silver and pink; the for him eau de parfum is painted silver with a smoky finish.

Both fragrances are available as 50ml edps. The feminine scent will retail at around €62, the masculine scent at €44."


Interestingly, one can note that the pricing has been slightly reduced to sell the products despite the higher concentrations as the Narciso Rodriguez perfumes tend to situate themselves at the higher end of the pricing spectrum for designer fragrances.
Currently and according to Sephora.fr, the Narciso Rodriguez for Her EDT starts at 63,10€, the EDP version at 72,10€ and the Narciso Rodriguez for Him EDT starts at 50€.
It is perhaps an adaptation to the context of the recession but perhaps also a test to see what is the right balance to be reached between popularity and exclusivity.
Via
The Moodie Report