Bebe Eau de Parfum (2009) {New Fragrance} + Launch Party Pictures with Francis Kurkdjian & Co
Fashion label
Bebe
founded by Manny Mashouf will launch its third fragrance called
Bebe Eau de Parfum
on August 20, 2009 in the US market following To Be (1996) and Bebe Perfume (2001). A greater advertising effort will be carried out this time around according to WWD to avoid repeating the lack of exposure given to Bebe Perfume which was popular but only to a restrained circle. The first Bebe To Be fragrance is also now recognized as a faux pas in that its name was too close to CK Be. Hopes are up.
"The target audience for the scent ranges from 18- to 34-year-olds, with a "sweet spot" at 24, said Spinn. "They are hip, sexy, cool and romantically playful,"...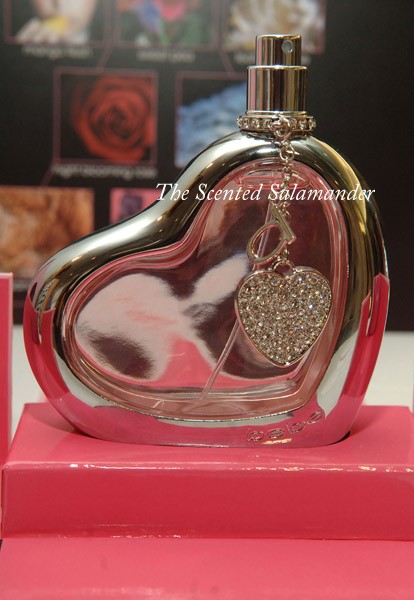 The fragrance was composed by Francis Kurkdjian of Takasago and is given as a "
luxurious oriental
."
The scent opens on top notes of mango flesh, sweet pea and leafy tuberose before revealing a heart of black jasmine and night blooming rose. The base rests upon notes of sandalwood, sultry musk and gold cedar wood.
The bottle shaped as a heart is meant to evoke the curves of a woman's body. The nuzzle is asymetrically situated on the side of the heart.
"The scent will come in three sizes, and a shimmer body lotion will accompany its launch. A 3.4-oz. version is priced at $65 and a 1.7-oz. size has a price tag of $49.50. There's also a miniature, 0.33-oz. version of the scent for $12. The body lotion comes in a 6-oz. tube for $25.
The Bebe bottle is heart shaped and the 3.4-oz. flacon comes with a heart charm that is encrusted with pavé crystals. The 1.7-oz bottle comes with a metal heart charm."
The Bebe EdP launched on August 6, 2009 at fragrance company Inter Parfums in New York City. Francis Kurkdjian attended as well as founder Manny Mashouf, Inter Parfums CEO Jean Mader, ad model Jeri and a host of beauty editors and buyers.