Britney Spears Circus Fantasy (2009) {Perfume Review} {Celebrity Fragrance}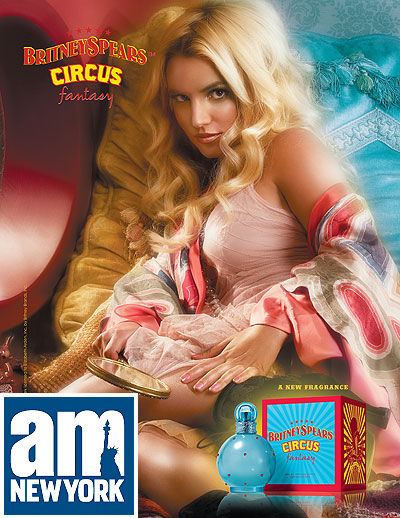 Notes: s
ugar-coated raspberry, apricot blossom
,
blue peony, waterlily, red sweetheart orchid
,
sweet vanilla wood, creamy musks, violet candy
.
Circus Fantasy is
the latest fragrance
by Britney Spears. It is a variation on the standard creamy, lactic fruity-floral that has been Britney Spears's signature scent running throughout her line of perfumes since Curious in 2004. You wouldn't fault her for lacking olfactory integrity. Instead of coming across as boring and repetitious, her latest scent twist, you have to acknowledge, is just better than many other offerings crowding the perfume counters today. The circus imagery meant to accompany the promotion of her current touring show may appear childish to some but the scent itself is a step-up in sophistication through a work on lightness, allusion and classic proportions. What the scent admittedly lacks in sheer originality, it gains in harmony, balance and subtlety. The over-enthusiastic spill of cream by a Fiesta breakfast bowl filled with canned fruits elevates itself finally to the level of an ethereal cloud of milk hovering over an abstraction of delicious fresh fruits and exotic flowers that smell fruity. This is how perseverance pays off: the more you polish an accord by believing in it, the more capable you are of mastering it and making it do what you want it to be. In other words, we are offered here a refined version of all the elements that have made Britney Spears's perfume success. The perfumer instead of falling asleep at the wheel perfected the basic idea. Absolutely do not fix what is working. A pop singer ought to know that better than anyone else. After the ear worm, we are presented with the nose worm...
From the initial impression of juicy and pleasantly sour fruits in the direction of lychee, mangosteen, raspberry, the perfume softens down to vanilla and citrus, with interestingly, some discreet background woodsy notes that seem to be borrowed straight from a masculine cologne. The vanilla is treated in a white and lightly creamy manner with always a counterpoint of tartness. The scent dries down to a sexy, understated and clean creamy musky floral finish with faint woodsy shavings and a hint of spice.
The outer packaging is a joyful pop of colors, while the bottle itself is more pastel and pearly, in light blue and red crystals. The scent is more like the bottle than the box. Britney Spears will also suddenly jump visually at you from under the lid of the box as the Ringleader.
Circus Fantasy is one of the best incarnations of the ever so popular milky fruity aimed low at an unsuspecting juvenile public, or so we may like to think. After all, children are kings and young people are dictating major taste trends. Without disowning its roots in this admittedly facile exercise meant to capture the hearts of the barely weaned youth -- In French there is an expression that says that if you were to press the nose of someone very young, there would (still) be milk coming out of it -- Circus Fantasy manages to transcend its commercialism and be a good perfume, full stop, no matter what its guise or how demagogic its orientation. Needless to say, this circus is open to persons of all ages.