Byredo Blanche (2009) {New Perfume}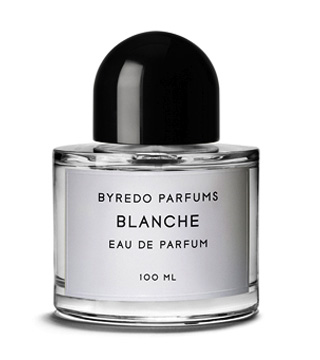 Swedish brand
Byredo
has launched a new perfume called
Blanche
(White). It is their 8th fragrance to date. Here the color white is approached as epitomizing the essence of a person who remains unnamed. The perfume is dedicated to her, is meant to be worn by her, was inspired by her.
"Sun filters through morning fresh air, through breezy linen curtains; it washes mutedly over the room, across the pale wood floors, onto her bare shoulder; it brushes her silhouette. A young child's laughter echoes from the other room. The day is new. And all is before us."...

"The idea for Blanche is, as the name suggests, built around my perception of the colour white.
For the first time i actually made a fragrance for and with a specific person in mind.
I wanted to capture her innocent and untainted side, with a fragrance almost transparent in nature.
Blanche also represents an appreciation for classic beauty.
The fragrance is pure and simple in structure but extreme in character." - B.G.
Blanche opens with white rose, pink pepper and Aldehyde.
The heart consists of violet, neroli, peony and reveals a base of blonde woods, sandalwood and musk."
I am very much interested by the sensation of aerial lightness as pointed out yesterday in my review of Guerlain
Tiaré-Blossom
, so this should be interesting.
A 100 ml bottle is priced at 115 € and available at shop.byredo.com.