Ted Lapidus Black Soul (2009) {New Perfume}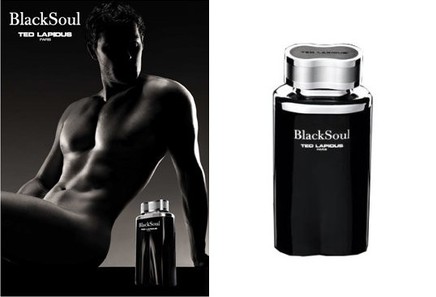 To celebrate the 25th anniversary of Parfums
Ted Lapidus
, the brand is launching a men's fragrance called
BlackSoul
dedicated to the "
neo-dandy who cultivates elegance and sophistication in the minutest details
." The scent is further described as an "
olfactory ambush
", that is, impossible to resist, being built around three distinct main accords that indeed sound like honey traps...
There is an accord of crushed leaves and lemon tree blossoms, another of fruits from the desert saturated with spices -- one thinks of Serge Lutens Arabie here, but also of Ted Lapidus Talisman -- yet another one of smoky woods and precious balms.
The cologne opens on top notes of bergamot, mint leaves, crushed leaves, neroli, lemon blossom, cardamom followed by Medjool dates, ciannamon, saffron, raisin trailing off with notes of Chinese cedar, tolu balm, gaiac wood, musks and Ambrocenide.
Ambrocenide is a synthetic aroma molecule with woody and ambery facets developed by Symrise and derived from natural cedarwood oil.
The eau de toilette is available at Escentual.com in the UK.
Via Osmoz.fr