Fred Farrugia's New Makeup Line, Design by Ora Ito {Beauty Notes} {New Beauty Products}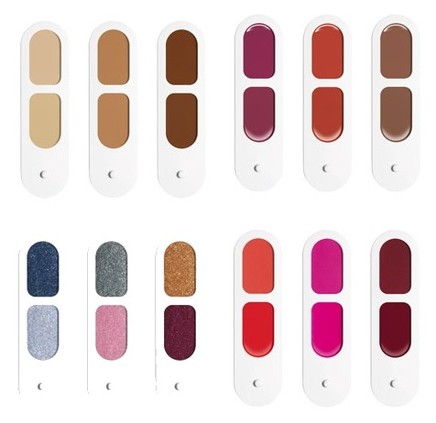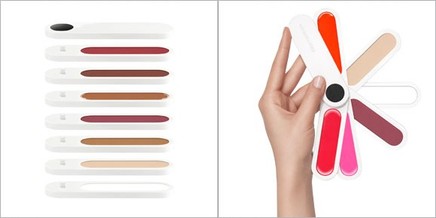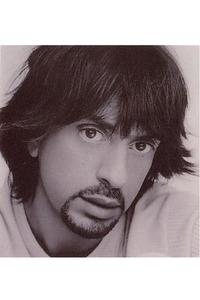 Fred Farrugia
is the ex-international artistic director for makeup for Lancôme and the inventor, amongst others, of the Juicy tubes. He just launched his own line of makeup at Sephora France, developing a nomadic concept of 104 stackable palettes of colors that can be easily carried in your bag and more originally, used without a mirror thanks to the (amazing) textures. One of the ideas behind the line is that this is a collection you can use even if you know more about finger-painting from your days in day-care and kindergarten than about makeup.
The textures may be called easy now but it took Farrugia five years to create the products in his apartment. (By the way, he is the brother of comic French TV personality Dominique Farrugia.) His collaborator on the project is designer
Ora-Ito
who conceived the stackables which are simple, functional elongated palettes that just need to be clipped on, unclipped, stacked at will. Ora-Ito is also the thinking head behind the new beautiful flacon for the latest perfume by Guerlain,
Idylle
(it looks better in reality than on a picture)....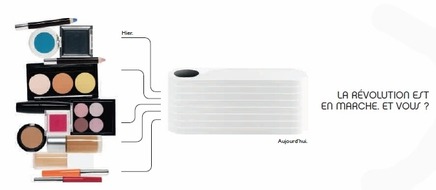 The collection comprises colors for the lips, eyes, cheeks, complexions. Given the richness of the hues and the playfulness and resourcefulness factors embedded in the line, it would be no problem to cross-use the colors.
The emphasis is not only on saturated colors but varied, unique textures. You can find red lip colors, for example, in gloss, hydrating lipstick, semi-matte lipstick, and lip powder to help set the tint. The shimmer in the eye-shadows is incredible. But more about that later when I will review some picks.
Going all the way with the choice of colors contained in pans, you can find a mascara cake which resolutely takes a counter-stand on all the debauchery of invention regarding mascara wands this past couple of years. It's back to the roots of mascara, even with this idea that you can warm the palette in your hand before application.
Everything is supposed to lie at the tips of your fingers as finger-painting is recommended especially for sheerer effects. There is also a set of makeup tools.
Each palette is priced at 20 Euros and available at Sephora.fr
The brand's website will open in a fortnight or so at fredfarrugia.com