Highlights from the Hard Candy Collection for Walmart To Launch Next Week {Beauty Notes - News}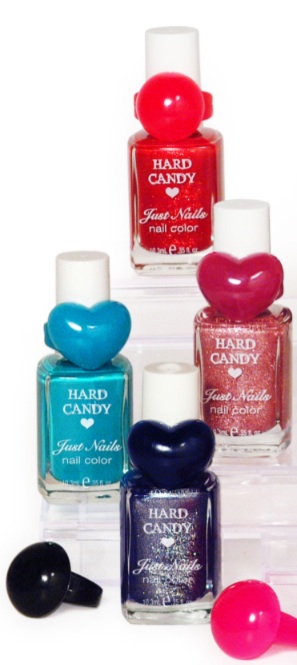 As
announced previously
, Hard Candy which was established originally in 1995 by sisters Dineh and Pooneh Mohajer is making a comeback to Walmart in a spruced up packaging for some of its items like the lipsticks while the nail polishes will retain their iconic appearance complete with plastic toy rings. The line-up includes 261 items at an average price of $7. A veritable treasure trove for cheap thrills seekers.
The idea behind this operation is to democratize prestige makeup by bringing it to the mass-market shelves of Walmart. Walmart will gain in coolness and Hard Candy will look suddenly extra familiar and empathic to a bigger segment of the market. Walmart has a far-from-the-madding-crowd quality about it due to its retail locations in rural areas that in a way can be turned into a relative notion of exclusivity. It will also be a great, easy way for teens to enter the fashion-makeup culture and develop a taste for it. More mature women, those who read More, will be able to tap into the urban girly culture for grownups.
Here are some highlights from the upcoming collection to be introduced next week....