Sephora Boar Detangling Brush (2009): The Power of Tourmaline {Beauty Notes: Review} {Hair} {New Beauty Product}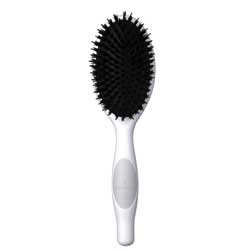 Sephora
has introduced a new collection of hair brushes that was studied to incorporate both the traditional know-how by using 100% natural bristles and the still traditional but nevertheless new, edgy awareness that certain minerals -- tourmaline here -- release negative ions that are beneficial to haircare. The latter is dubbed "Ionic technology" and promises an anti-frizz effect as well as a "maxi-shine." The encouraging tag line is "...
for the woman who wants to achieve mane magnificence sans the damage
."

Well, I have to say that I literally jumped on the Sephora Brand Boar Detangling Brush (or Brosse Démêlante Sanglier) upon spying it without even reading the fine print as my personal hairbrush-radar activated itself automatically. This particular brush from the collection looked very well balanced..
From a medium distance the Sephora Boar Detangling Brush offers a gleaming smooth white texture which is very attractive, looking almost like shiny ceramic and upon closer inspection I have to say that the silicone part for thumb-rest, the richness and vigor of the -- gasp -- natural boar bristles, not plastic, was all I needed to select without further ado the best-looking hairbrush lying on the shelf. (Yes, I know they are industrially produced items, but there are always slight differences and sometimes I cannot help but compare when I really care.).
To be more precise, each cluster of natural boar bristle has a longer nylon spike centered in the middle that has been infused with tourmaline mineral. The stone was selected for its capacity to emit high levels of negative ions.
The whole brush feels immediately like it has a nice weightiness to it that will help direct the brushing from top to bottom neither too quickly nor in too shallow a manner. The brush sinks into your hair, doesn't let go and smooths down your mane in a very comfortable, gliding manner. I think I even hear a silken rustle.
It is a very efficacious detangling brush, without the pain. The 100% natural boar bristles which are hardy but not too rigid help create that simple sheen that our forefathers and foremothers appreciated. I did not get any static, as promised. Right now it feels like creating breakage for your hair to get through the knots is reserved for barbarians.
So, in sum, it looks great and feels great.
By the way, here is a quote from the ad copy,
"This advanced haircare essential harnesses the power of tourmaline to deliver spectacular results. The bristles release negative ions on contact with hair. The ions penetrate the core of the hair shaft, canceling static and frizz and turning up the shine factor. 100 percent boar bristles care effectively for even the most fragile hair, minimizing breakage and maximizing health. A comfortable silicone grip makes for simple, easy use.
The downside of having resolved the problem of mussy hair is that now you start looking at the whole length of your hair more clearly and see where more work needs to be done to achieve a glossier effect. Warm oil perhaps? I only need more time.
The brush is priced at $24 or 20€.