Artek & Comme des Garçons STANDARD (2009) {New Perfume}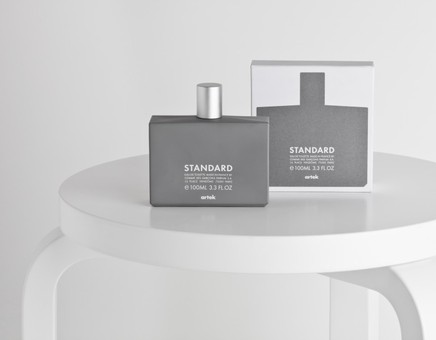 This October, Finnish design brand
Artek
will launch an unisex fragrance called
STANDARD
co-created with maverick perfume brand Comme des Garçons and artistic director Christian Astuguevieille.
"The name derives from Artek's standard thinking, based on Alvar Aalto's original idea of systems and standards in furniture design."


The president of CDG Adrian Joffe said,
"I guess the greatest similarity between Comme des Garçons and Artek is that we both have strong vision andbelief in creativity that does not lend itself to compromise," says Adrian Joffe, President of Comme des Garçons Parfum. "We believe such collaborations create a synergy where the result is greater than the sum of its parts." Comme des Garçons is known for its experimental approach in everything it does, continuously creating things that did not exist before. "We like to question the notion of what is luxury," concludes Joffe."...
The blend rests upon a series of contrasted notes, combining natural, wild vegetal ones with the scents of metal and rust to pay tribute to the universe of essentialist design promoted by Artek; they do not hesitate to use the word "ideology" to describe their aesthetic project. At the same time, I seem to recognize a group of notes that are very CDG.
"The notes are:
Finnish Labrador Tea (Ledum Palustre), Twinflower Linnea Borealis, metal and rust in the base notes and fennel, ginger, lemon, musk, saffron and cedarwood in the top notes. In line with Artek's design ideology, the scent is created with the ambition to nourish physical and emotional wellbeing.
"
STANDARD will be launched in London at Dover Street Market on October 15. The fragrance will be distributed through Artek's and Comme des Garçons' own stores as well as Comme des Garçons resellers.
STANDARD 100 ml / 76 €
Via Artek.fi press release