New French Book of Manners Perpetuates Courtly Ideals {Fragrant & Beauty Reading}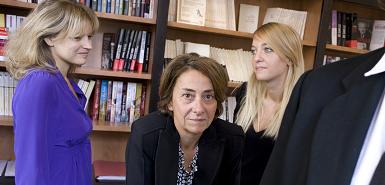 Well, apparently, Versailles is not dead. I just read an article in the Times Online about an advice book entitled
Le carnet du savoir-vivre au bureau
by author
Laurence Caracalla
and it appears to be replete with self-punishing advice on how to look better, more the part and make the most expected, conformist and correct impressions on people. It perpetuates tangibly the Versailles courtisan ideal in which submission to the strictest rules of conduct and appearance are dictated by (whom?) and accepted in the hope that they will contribute to your advancement in society. What a nightmare! Plus it does not make sense. The pronouncements on how French women look immaculate at 7 pm is simply not true. There is a whole trend of French négligé charm that is very common even in the most elegant neighborhoods. In fact I worry less about my hair in France than in the US because, you know, even Carine Roitfield, the editor in chief of Vogue looks like she just rolled out of her bed hair-wise. It's called (in my mind) intellectual hair! By the way, doesn't Caracalla on this picture have the typical
intellectual hair
?...
Bullocks!
Caracalla is tapping into diffuse ideas and ideals that are floating around and trying to consolidate them to support a conservative ideology and probably her conservative politics.
If you want to buy the sticks with which to beat yourself, it's the right source apparently. It should be noted that the author is going to write a blog column for the Figaro which is a newspaper positioned on the right hand side of the political spectrum. Again, women will be taken to task for not complying to set ideals. They will be asked to be passive and discreet. It is not because one person is alienated that everyone else ought to follow this lead.
"Want to work in France? Then you will need to mind your language and the way you look. Your hair, clothes and make-up must be immaculate, even after a long, hard day. Your self-control should be total and your conversation will avoid all subjects likely to rile colleagues, such as love, money and your personal problems.

This advice on the Gallic ideal comes from the author Laurence Caracalla, who has written a guide to French office life that covers such subjects as clothes, manners, parties and romances. It makes daunting reading.

At 7pm, for instance, a self-respecting Frenchwoman must look and sound as fresh as if she had just showered in the morning, Caracalla says. Her appearance will be flawless, her conduct exemplary.

Smiling and fragrant, her ideal office worker will feign interest in the boss's account of his marital woes but not bother him with his or her own -- and will then text a lover and arrange to meet at a suitably tactful distance from the office."

Read more....