Lolita Lempicka Eau de Minuit (2009) {New Perfume} {New Flacon}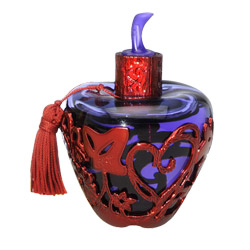 Lolita Lempicka
have released their 6th limited-edition of their annual
Eau de Minuit
(Midnight Eau). The 2009 version is decorated with an ajouré red metallic case and adorned further with trimmings. The jus is said to be ever more sensual, carnal and is billed as an oriental gourmand enriched with notes that "...
are even more noble, precious and new: myrrh, jasmine, iris concrete, benzoin and vanilla infusion
,"....
Notes: Ivy, aniseed, myrrh, violet, iris concrete, jasmine, tonka bean, vanilla infusion, benzoin
Notes: Lierre, Anis, Myrrhe, Violette, Iris concrète, Jasmin, Fève tonka, Infusion Vanille, Benjoin.
The 80 ml spray bottle of eau de parfum is available for 78,40€ on news-parfums.com and 82,90€ on sephora.fr