Frederic Fekkai Femme Fekkai Sensuelle Eau de Parfum (2009) {New Perfume} {Beauty & Olfaction}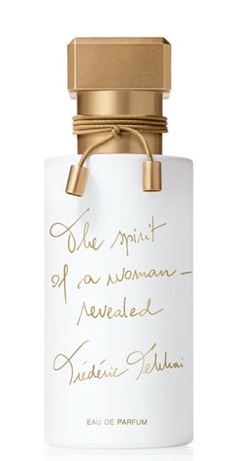 Coiffeur to both celebrities and grateful Sephora-goers
Frederic Fekkai
has launched his first personal fragrance called
Femme Fekkai Sensuelle Eau de Parfum
. It is part of the brand's
Femme Fekkai Sensuelle Collection
which wishes to weave together functionality and olfactory hedonism, pairing beauty and olfaction.
To spice up things, the tag line in the form of a message of affirmation is printed on the bottle in Fekkai's handwriting and with his autograph, "
The spirit of a woman -- revealed
."
Next time, I suggest selling an erasable pen that can be used on a specially studied surface on the perfume bottle so that one could add one's favorite quote of the moment and absorb it while spritzing...
There are three additional products: a shampoo, conditioner and hair spray to invite you to"...
surround yourself head to toe in fine fragrance for a fresh, modern way to wear scent.
." The line up is currently marketed as a limited-edition for the Holidays...
The fragrance is described as "
A complex mix of orange blossoms and jasmine entwined with woody and amber notes, the Eau de Parfum makes a woman not simply gorgeous, but unforgettable.
"
"
Femme Fekkai Sensuelle Eau de Parfum combines bothfresh and sensual elements into one unique, modern, elegantfragrance that reveals a woman's inner essence--her femininity,style, positive energy and inner confidence.
"
The 1.7 oz. edp is priced at $95. Shampoo and conditioner are $45, hair spray is $30.
Available at fekkai.com, Frederic Fekkai salons,
Neiman Marcus
(free shipping for any purchase with code NMNOV) and other fine retailers.