Marc jacobs Splash Collection Apple, Pomegranate, Biscotti (2010) {New Fragrances}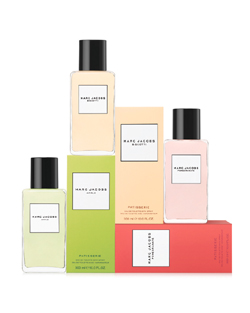 As I was already writing in my review of
Wanted
by Helena Rubinstein, macaroons are the new Swarovski crystals. I did not phrase it this way exactly but for anyone who is living in Paris and paying attention it is hard to escape the fact that macaroons or
macarons
in French are the new iconic signs of luxury. Even art galleries use the icon to advertise their artists. I
sabella Blow
is credited for having had the idea of introducing the widespread use of Swarovski crystals in the field of fashion as a means to add an affordable touch of luxury. Today, macaroons are studding the fashion and beauty scenes as well.
Marc Jacobs
will launch a new trio of oversized Splash perfumes next summer " inspired by an array of macaroons in a Paris patisserie," They are called
Apple, Pomegranate
and
Biscotti
.
..

Apple
was composed by
Yann Vasnier
of Givaudan. It features notes of apple juice, lemon and grapefruit, teamed with rosemary, jasmine, magnolia, coriander and cardamom.
Pomegranate
was created by
Patty Hidalgo
of Fragrance Resources. Notes are pomegranate, mandarin flowers, bergamot, rhubarb, violet, musk, vanilla and amber.
Biscotti
is savory and citrusy. It was composed by
Richard Herpin
of Firmenich. It includes notes of freesia, bergamot and orange flower, building to a heart of pistachio blossom and vanilla.
The perfumes will be introduced as limited-editions.
Via
The Moodie Report