North-American Originals: Perfumers on Fall & Winter {Scented Thoughts} {Perfume List} {Shopping Tips}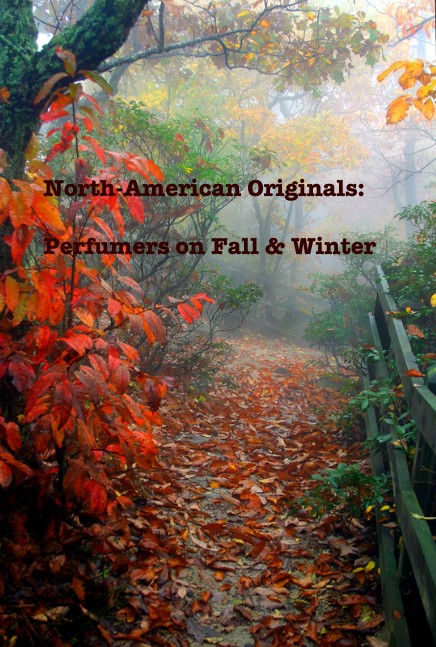 North-American Originals: Perfumers on Fall & Winter
You can read Part 2 here; Part 3; Part 4; Part 5
American perfumery is as varied as its landscape. One of its most notable traits is the fact that in spite of the presence of giant corporations like Coty or Estée Lauder, there exists a strong breed of independent perfumers who appear by contrast even more like the necessary missing pieces of a vast puzzle. And without them American perfumery would be forgetting the flip side of anonymous efficiency, large-scale organization and big business: originality; primitivism; naïveté; a sense of community; intimacy; individualism; the can-do attitude. If we only had the big labels, we would still have rivers of perfume, but we would have less of a certain moral spirit, the individualist one. And I don't know really what is America without the individual.
She or he is like the flavor of home-grown local herbs added to a standard national recipe...
We still need the giants because without the Leviathans, perfumery would not be as democratic an art, a simple pleasure and a way of life. Mass-marketed perfume may be a French invention borne out of the intuitions of François Coty, he who knew perfume could both be a sign of luxury and a household name, but mass-market perfumery particularly thrives in the United-States thanks to sheer size and a deep culture of consumerism.
Ultimately, the ideals of democracy and pluralism that are the bread and butter of the American psyche open up enough room for independent perfumers to be not isolated and too rugged but an expression of a particular sensitivity.
In this series we meet with a number of North-American indie perfumers who reveal a naturalistic approach. They can be distinguished from so-called "niche perfumers" easily by realizing that their reference point is their own personal experiences. Indie perfumers are more hands-on and are usually less inspired by a tradition, genres, a cannon or the market. And as far as independent perfumery goes, this means to me also that independent perfumers make their perfumes themselves almost from scratch, even sometimes devising their own ingredients or searching for new sources of natural inspirations in their self-cultivated gardens. Due to this sensitivity to the naturalist context, their catalogs tend to be colored, more or less explicitly, by real-world references like the seasons in an impressionistic sense, or the fruits of the seasons. Some of these perfumers have extensive libraries of scents, others concentrate on a more compact collection.
To develop one step further the food metaphor, American Originals are more like non-processed food. Even though indie perfumers do not necessarily use only natural ingredients, the creative process itself seems more natural and unmediated. An art of the vignette is born where nature is approached in an interpersonal manner, where scents refer to a precise point in time, evoke warm, nostalgic memories.
After asking a group of independent perfumers for their thoughts on Fall & Winter fragrances, I have weaved their voices and their beautiful words into a virtual conversational exchange. Some perfumers who have contributed longer answers, I have taken the liberty to interrupt for a day to let them pursue their thoughts onto the next not because what they said was too long but because it creates a balance and a rhythm, a journal-like quality that echoes for me, the charm of truly seasonal fragrances as natural clocks of time, images of the ebb and flow of the days.
I will add short bios on the last day of the series.
Today, Mandy Aftel of Aftelier Perfumes writes that the seasons usually set a stage for her creative process; Ineke Ruhland of Ineke reveals that she is particularly attuned to the floral notes of the seasons rather than to the seasons themselves; Liz Zorn of Soivhole explains that it is the customers who have defined her perfume Grand Canyon as a seasonal fall fragrance.
I hope that you will enjoy these pieces just like I did as well as find them helpful for finding your fragrances for fall and winter. ...

Mandy Aftel of Aftelier Perfumes
"Aromatic memory is tied to our sensual and inchoate experience of the seasons. Experiencing scent is like experiencing the seasons, they provide the backdrop or atmosphere in relation to what else is going on in your life. These are the "surroundings" that help contain our recollections. The season or fragrance of a memory set the stage on which the more concrete sounds and images unfold. 

When I create a perfume, I usually think about with which season it belongs. Fall, for me, is about rich fruit, dark colors, and a heaviness of substance and layering. The two perfumes in my line that best express Fall are Cassis and Fig with their dark coloration and rich fruit aromas. Fig, having a jam-like sweetness paired with the voluptuousness of the forest; while Cassis with its aroma of heavy fruit, crisp spice, and the sweet ethereal fragrance of rum. Tango comes to mind for winter, with its zest of wild sweet orange and the smokiness of coffee, roasted seashells and tobacco. It retains the clarity of cold air, hypnotic fireplaces, smooth cashmere, and long dark evenings."

Ineke Ruhland of Ineke perfumer, San Francisco
"I'm generally not very conscious of seasonality when I create fragrances. I currently live in what is probably the least seasonal city in the USA, San Francisco. In fact, Mark Twain apparently once said, "The coldest winter I ever spent was a summer in San Francisco." With our cool summers and mild winters, we barely need to change our wardrobes from summer to winter.
Of all my fragrances, I would say that Field Notes from Paris best embodies the fall and winter seasons because it has the most cosy, warm notes like tobacco, woods, tonka bean and beeswax. Evening Edged in Gold is probably a close second with its sandalwood, spice and leather notes, although I see it more as an evening fragrance for all year round. I see After My Own Heart, Chemical Bonding and Derring-Do as being without season, while Balmy Days & Sundays is definitely a crisp, green summer fragrance.
In terms of fragrance inspirations, the garden is more interesting in spring and summer just because so many more flowers are in bloom. Winter does have a few special things though including one of my favorites, winter daphne. By February we have a few other amazing plants in bloom: osmanthus, boronia and early bulbs like freesia and hyacinth. But for me, winter notes are more like the things we smell indoors -- the cozy smells of baking, cooking, hot drinks, fireplaces, wooden furniture and old books."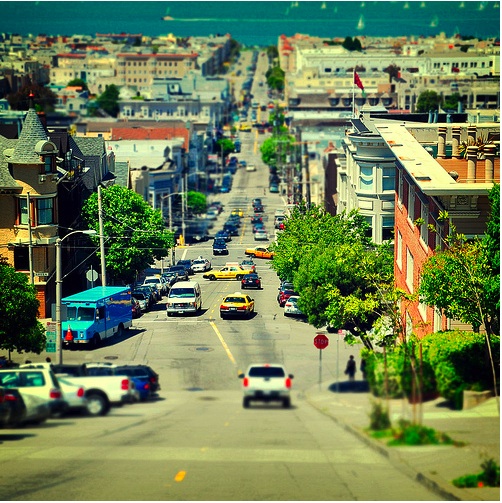 Grand Canyon by
Sebastien Mamy


Li Zorn of Soivhole
"GRAND CANYON
/Orange Flower and citrus, with soft spices and herbs, Myrrh, Black Pepper and Laurel, with a warm base of Vanilla and Woods.
A very soothing comfort scent. Inspired by the beauty of the American Grand Canyon. Liz Zorn/
When people think of the Grand Canyon, it is usually a summer affair. The south rim. Family vacations, campers and lots of people everywhere you turn. When I think of the Grand Canyon, it is the road less traveled that peaks my interest. Late spring, or early Autumn when the air is cool, and a coat is often needed; Entering the park at the north rim, the long drive to get to the canyon itself, the absence of people.

It was from this vantage point, the memories and deep feelings that I first contemplated the parfum that I call Grand Canyon. It was sometime in the mid 1990's, several years before the scent would become part of a retail Collection. At the time my palette was limited to natural aromatics, a few fractions and plant based aroma chemicals. The artisan explosion had not really begun, although a handful of individuals had set up shop, and were traveling the road of independence in an industry where independence did not exist.
For an independent such as myself with a day job and other obligations, the school of perfumery consisted of trial and error experiments, lots of reading, reworking old formulary and becoming familiar with the tools. Being that my day job was as a visual artist, my focus when it came to perfumery was always about putting the artistry first. I am just wired that way. If I had first come to perfumery as a chemist, or technician, my journey (and the outcome) would surely have been very different.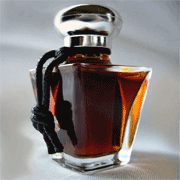 Grand Canyon, is very intense in the parfum. Rich with a variety of orange notes, herbs, woods and balsams. A comfort scent with a slight edge, that mirrors in its notes the colors of the canyon, and in its evolution a feeling of familiarity, of being one with nature. And at the same time knowing that there is more at work than meets the eye.
 It is this intangible mystery that is most intriguing to me. It is at the very heart of true artisan perfumery, or any art for that matter, and the most difficult aspect to capture. It requires a lot of quiet time, focus, and loads of patience.
When I am working on a parfum like Grand Canyon the process becomes my meditation, my awareness of the moment. Working this way opens me to all of the possibilities. things that I might not consider if I am rushed or not fully committed to the work.
I had not intended that this scent be a seasonal parfum, yet most of our sales are in the cooler months, particularly fall and early winter. It has been our customers who have defined Grand Canyon as a late in the year scent, and that is just fine with me. It is a lovely scent to wear just for oneself. After a bath or in the evening. and perhaps it is the reference to the color orange. The changing of the leaves in autumn. The cozy feel of sitting by warm a fire on a cool night, that draws people in.

Everything about the American Grand Canyon is stunning, I am humbled by it's grandeur, and the spiritual energy, so thick one could almost cut it with a knife. If in my small way, I have tapped into a mere fraction of that energy with my liquid creation, I will be forever content. A journeyman traveler on the road to discovery, a servant to the all knowing muse that is nature."