Orlane Autour du Coquelicot, de l'Iris, du Muguet, de la Rose (2009) {New Perfumes}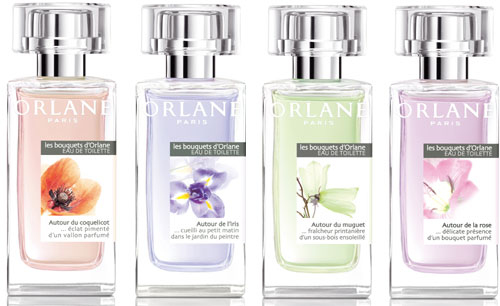 Cosmetics and perfume brand
Orlane
have launched a quatuor of perfumes each centering on an interpretation of a floral note. The collection is called
Les Bouquets d'Orlane
(Orlane Bouquets) and includes
Autour du Coquelicot (Around the Poppy), Autour de l'Iris, Autour du Muguet and Autour de la Rose
....
The poppy perfume is described as "the spicy burst of a perfumed glen"; the iris in the iris scent is said to have been "picked at dawn in the painter's garden"; the muguet or lily of the valley fragrance is about "the spring-like freshness of a sunny undergrowth; the rose perfume signals "the delicate presence of a perfumed bouquet".
What I find particularly interesting here is the concept of a poppy perfume, which was already rendered abstractly by Kenzo with FlowebyKenzo. it parallels a significant trend in the French food fashion culture where poppy-flavored products have been appearing left and right. I don't know if the allusion to spiciness indicates here that poppy seeds were an inspiration.
Each 50 ml Eau de Toilette is priced at 48 €. It will be available at the Orlane beauty institute, 163 Avenue Victor Hugo, Paris.
Via
FashionMag.fr