Beyonce Heat (2010) {New Perfume} {Celebrity Fragrance}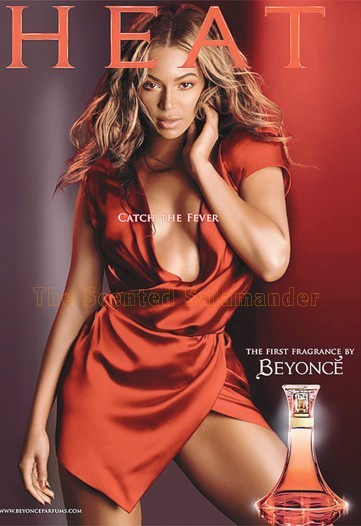 {A
fragrance review of Beyoncé Heat
was added to the blog!}
Singer
Beyoncé
Knowles feels she is ready to launch her first signature perfume and because she loves red and gold and does everything with love and passion, it's called
Heat
. The tag line is "Catch the fever." It's been tested the way only a touring singer can, by getting the spontaneous inputs of countless fans getting up close with her. So far it's reported to be a win.
"I learned a lot of great things from the past -- but I always asked myself, 'If I could have my own scent, what would it be?' I wasn't worried about deadlines. It could have taken me three, four, however many years -- this was my first fragrance, and I wanted to make sure that it was something I would love forever."...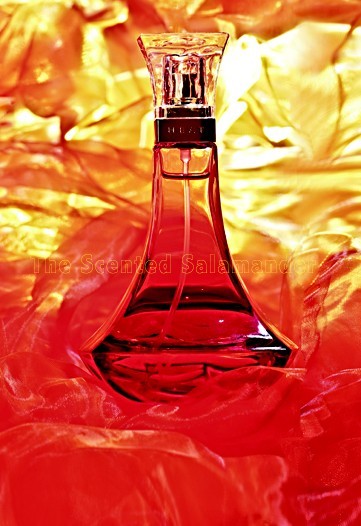 We also learn that Beyoncé likes sexy and clean,
"My sexiest moments are when I'm just getting out of the tub or the shower and I'm clean, so I wanted to incorporate that in the ads."

The fragrance was composed by perfumers
Claude Dir
and
Olivier Gillotin
of Givaudan. It features sweet creamy fruity-floral facets while being anchored by woods.
Opening notes are
red vanilla orchid, magnolia, neroli and blush peach
Sustained notes are
honeysuckle nectar, almond macaroon and crème de musk

Lingering notes are
giant sequoia milkwood, tonka bean and amber.
The bottle for the perfume was inspired by Beyoncé's mother collection of antique flacons. The singer wanted the bottle to be both vintage and modern like her own sense of style that she likes to express usually with clothing.
More fragrances are planned in the future but Heat is seen as the defining classic for the brand, meant to stay.
Meanwhile, Stephen Mormoris, senior vice president, global marketing, at Coty Beauty, a division of Coty Inc. hopes to see some excitement flow back into the celebrity-fragrance market.
"We think this scent will re-energize the celebrity category."
"The Beyoncé Heat lineup includes eaux de parfum in three sizes -- 1 oz. for $39; 1.7 oz. for $49, and 3.4 oz. for $59 -- as well as a 6.8-oz. Gold Sparkling Body Lotion for $24."
A teaser website has been set up. You need to register to access some preview material:
Readytocatchthefever.com
Via
WWD