Estee Lauder Private Collection Jasmine White Moss EDP & Extrait (2009) {Perfume Review}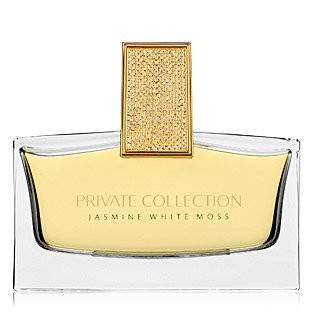 With
Jasmine White Moss
,
Estee Lauder
launched their third and last chapter of the Private Collection creations last summer following
Tuberose Gardenia
and
Amber Ylang
. The collection is dedicated to the memory of founder Estée by Aerin Lauder her grand-daughter and senior vice president and creative director of Estée Lauder. The latest launch is the one most directly connected to the spirit of the founder of the brand as it reprises a formula - Formula 546AQ - which was first developed under her aegis in the late 80s and then set aside. The idea however of introducing a chypré green perfume was not abandoned for all that.
Around the same time, Mrs. Estée Lauder was apparently interested in paying tribute to the decade's taste for green chypres (Niki de Saint Phalle, La Nuit de Paco Rabanne, Jean-Louis Sherrer...) but preferred to launch another composition belonging to that family, Knowing, which is still in existence today. The brand itself had given personal impetus to that category of scents with Alliage (1972) and
Private Collection
(1973).
The 2009 Jasmine White Moss is reportedly an "
updated
" formulation of the original by perfumer
Jean-Marc Chaillan
of IFF due to regulatory restrictions on raw materials. No doubt also that aside from these restrictions, changes would have had had to take place due to evolutions in consumers' tastes. Chaillan is also the author of Baldessarini, Provocative Woman, Burberry London, Avon Spotlight, CKIN2U and more, all destined to the wider public.
The most obvious new contemporary trait in the perfume is the replacement of traditional oakmoss with a proprietary White Moss Mist ingredient. Other contemporary nuances seem to be a sweeter white vanilla nuance than is more typical of the era in which we live and a fresh living flower quality to the floral facet.
What remain signs of classicism is a structure resting on a slow-motion development in the Eau de Parfum concentration, a discreet civet note in the EDP also and the green chypre affiliation evocative for its green accent of Private Collection by Estée Lauder and Silences by Jacomo (1978)...
The Eau de Parfum
The perfume opens on a musky citrusy and sheer floral sensation mixing the fruity facet of jasmine sambac (Aerin's choice) with Indian Jasmine (Estée's choice) and ylang. The effect is anything but static enlivened by the sudden push of a citronella-like note, both green and citrusy (galbanum, blackcurrant bud, bergamot) all of this underlined by a discreet lipstick trace of civet like a nostalgic yet realistic note from the grand old past of men-killers loaded with animalic appeal.
The blend seems to be a very pale color hesitating between pale yellow and white, in accord with its name.
This initial stage is a symphony of citruses, lemon rinds, fizzy lemonade with shots of vanilla, musk, herbs and amber. The lemony quality literally makes the mouth water and resembles the feel of a lemon splash cologne thanks to the joyous overdose of bergamot.
After this blitheful and summery opening only paler like a summer spent in a Scandinavian country rather than in the south, the scent takes on a slightly more buttery and iris-y quality while keeping the citrus splash aspect of the perfume fully alive.
The development, interestingly, is protracted and compartmentalized and so for a good moment the jasmine is not that apparent. It finally slowly comes to the front, shyly at first then a bit rounder.
I wouldn't call the accord a clean nor a transparent jasmine. The best term that comes to my mind is "ethereal" an impression which paired with the urbane chypre accord makes the perfume also feel elegant. Like its predecessor Private Collection Tuberose Gardenia, it evokes for me the cool blond heroines of Hitchcock and in particular the charm of Grace Kelly.
Beneath the cool, aloof exterior, there is a definite current of less disembodied sensations. The civet, the musk retain some of their primitive appeal but in a lady-like fashion and never act promiscuous.
The composition blends and mingles further taking on a sensual skin scent quality but still with a drop of an immodest and yes, fecal note of civet that prevents it from being assessed as a new-generation clean white musk perfume. Every time you affirm the reign of civet over musk, it means you are old-school and unafraid of calling a cat, (a civet cat), a cat.
Jasmine White Moss becomes creamier overtime creating the sensation of a risqué dessert tasted at a dinner party hosted by a daring hostess having concocted a strange erotic delicacy mixing exotic jungle flower effluvia with Abyssinian civet paste to be eaten like caviar, preferably with vermeil spoons.
This is the part when the perfume sheds its more conventional albeit sophisticated and elegant persona and starts betraying some originality, complexity and exude the slightly unsettling charm of an exotic greenhouse flower whose smell borders on the foul but is not quite that definite. The scent becomes literally edgy, hard to place although it vaguely rings a bell. It reminds me of the secret floral ingredient found in
Summersent
, a jasmine composition with an ineffable note. It is an aroma that goes in the direction of a Belle de Nuit as in
Cascade
and
Ricci Ricci
but with the cheesy note of gardenia. It is beautiful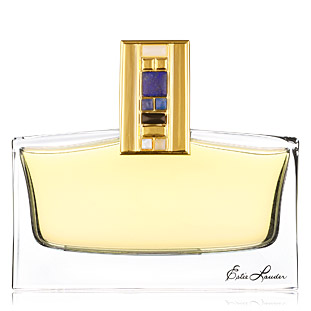 The Extrait
The parfum is more heavily-bodied as can be expected and opens less bright and fizzy but is still evocative of a citrus grove. It is a little bit more reminiscent of that classic liquorishy champagne aspect of Joy in the initial instants but soon the more muted yet still mouthwatering zesty citruses come into play. The butteriness of the iris is more instantly noticeable thanks probably to a higher dose of it instead of making an entrance after a good long while. The amber from the base notes is also more pushed up towards the top of the fragrance.
It seems to me that the work on citruses in the extrait loses somewhat in detail, complexity and evocativeness. The perfume is more compact, more oriental, richer in texture but also more linear in structure.
The musks used - and this is a surprise to me - make me think paradoxically more of the ones that scent laundromat machines, the cheap ones. It is hard for me to translate this sensation into an unequivocal sense of chic and sophistication. But then I am sure that for many people whether civet is a sign of sophistication or not is rather debatable. An argument could certainly be put forth that civet is too reminiscent of the great unwashed masses, which have probably by now become the over-washed ones.
There is evidently a push these days from the industry to impose white musks at all levels of the market and to make us perceive them as being desirable and luxurious by being associated with costly products. It is probably only a matter of time before we all get used to it. Having said that, I have to acknowledge the fact that vintage Youth-Dew bath oil smells quite of a bit of soap, not a new thing therefore. Even if there is a taste reasoning behind this choice, one reason I can think of for the presence of low-brow musks here is that given the quality of the materials used elsewhere in the formula a little budgetary cut was necessary, somewhere. It makes sense to romance the white musk intrusion by putting it in a more expensive formula.
It is not impossible either that knowing that the extrait will have a more limited distribution, the perfumer did not devote as much creative attention to it. I know that this thought may sound very paradoxical as we are used of thinking that when perfumers dream up perfumes and wake up at night to jot down notes in their Moleskin notebooks they are thinking of extraits first and then derive other concentrations from it. From a marketing perspective it makes sense however to be more focused on a product that will be purchased by a greater number of women. Who will be buying the extrait a priori? A more select group of people who may have more money but not necessarily more time to spend on researching perfume. The comparative shopper is not to be found amongst the spending elite, she is elsewhere, of more modest means and this is where the competition really lies. We go back to this idea that it is more difficult for a perfumer to create a lighter perfume than a velvety, deep one.
I have to realize that a good part of the attraction of the extrait for its potential buyer here lies in a particularly eloquent luxury-signaling packaging decorated with semi-precious stones (white jade, dark and light lapis, sodalite, black agate, mother-of-pearl and blue lace agate.) When buying Jasmine White Moss Parfum, you have the assurance that you are a woman of taste and that the perfume is a good status indicator.
The jus itself therefore seems more classic and more reassuring. The sheer vitality of some of the natural materials seem to have overtaken the creative effort of the perfumer, his thought process. This is why I think it is not always unilaterally positive to rely on the beauty of materials. A composition, to feel more creative, more cultivated may need to experience some intrinsic difficulties to let the art of perfumery take place. Natural beauty just says that nature was the best perfumer. And like a really good natural bounty of nature you are tempted to intervene less.
The price range also may point to an age cut. It is true that the edp is more vanillic, its floralcy edgier. The parfum is more ambery and classic. A mother and daughter duo and a generational divide? To some extent, yes.