Esteban Bois Plume & Bois Velours (2009) {New Fragrances}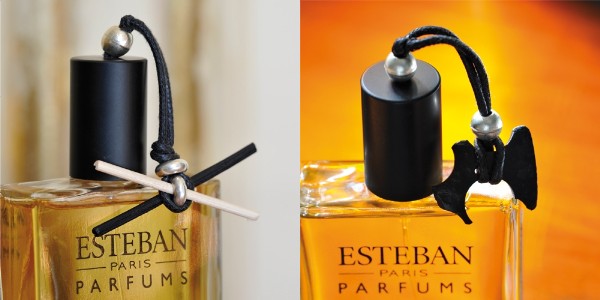 Esteban
have launched a duo of personal Eaux de Toilette called
Bois Plume
(Feathery Wood) and
Bois Velours
(Velvety Wood) in the collection
Les Boisés
(Woods) to "warm up and soften winter..." They "let their imagination take flight to far away countries peopled with scorching savannahs and enchanting forests."
Bois Plume is a floral woody composition featuring pale woods and iris-y petals...
Opening notes:
bergamot, cardamom, lavender
Sustained notes:
iris, rose, patchouli
Lingering notes:
cedar, sandalwood, rosewood, cinnamon
Bois Velours is a woody, floral and leather composition inspired by a red sun over the dry and hot steppe.
Opening notes:
pepper, nutmeg, grains of paradise/melegueta pepper
Sustained notes:
patchouli, sandalwood, floral-leather accord
Lingering notes:
vetiver, cedar, musk-amber accord
Each 50 ml Eau de Toilette is priced at 50€.