Garancia Eau de Sourcellerie (2009): The First Powdery Aromatic & Eau de Decollete {New Perfume} {Beauty & Olfaction}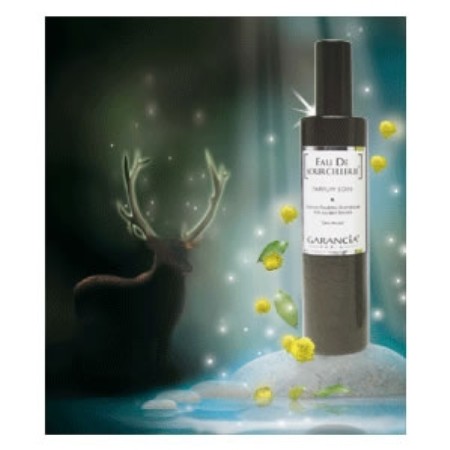 Garancia
, a beauty brand making systematic references to magical traditions while using unusual animal-sourced ingredients such as snake venom has introduced a debut fragrance which aims to be both a skincare product and a novel perfume composition.
Eau de Sourcellerie
is named after a legend about giant 3-meter-high stags called Mégaceros who turn out to have existed and can be seen reconstituted at the Prehistory Museum at Eyzies de Tayac. The animals according to folklore are reported to have known the existence of a fountain of eternal youth called Sourcellerie...
Eau de Sourcellerie
has reportedly anti-aging properties targeting the neck and décolleté areas which tend to be neglected even when care is given to the face. It is at the same time a real perfume which can be applied to all the pulse points. The anti-oxydant in use is called
Peps'kin
. Ingredients such as immortelle, patchouli, myrtle, cistus essences from the Corsican underbrush are incorporated for their beneficial influences on the health of the skin.
The Eau de Parfum which contains 0% alcohol to prevent the formation of brown spots on the areas covered has no parabens nor phenoxyethanol.
This wellness scent is built around a classic pyramid structure and is labeled as the "first powdery aromatic." Its tenacity was tested on 20 subjects by 3 oenologists that were hired as evaluators and gave it an 8-hour mark longevity.
Opening notes
:
Cistus, myrtle, blackberry, almond
Body notes
:
Everlasting/immortelle, violet, aldehydes
Lingering notes
:
Patchouli, vanilla, white musk
Price: 50 ml for 45€
Via
beauté-test.com
;
garancia-beauté.com