L'Essence des Notes: The First Line of Eaux de Parfum Sold in Pharmacies (2009) {New Perfumes}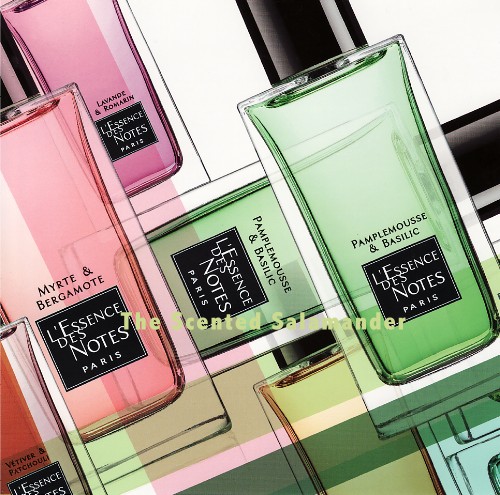 L'Essence des Notes
is a new collection of nine Eaux de Parfum which presents the particularity of being distributed exclusively through pharmacies or more precisely para-pharmacies, those sections in French pharmacies that focus on wellness and beauty.
The most ubiquitous brand there must be Roger et Gallet. In some locations where fragrance offerings are more developed you can find brands such as Comptoir Sud Pacifique, Crabtree & Evelyn, Caudalie etc.
The collection bottled in basic flacons is a bit reminiscent of the Chanel bottles, only simpler and look more like perfume-fragrances than toiletry-fragrances...
L'Essence des Notes includes
Pamplemousse et Basilic
(Grapefruit & Basil)
, Cardamome et Embruns
(Cardamom & Sea Spray)
, Citron et Petitgrain
(Lemon & Petitgrain)
, Lavande et Romarin
(Lavender & Rosemary)
, Orange et Litsée
(Orange & Litsea Cubeba),
Néroli et Bois de Gaïac
(Neroli & Gaiac Wood)
, Myrte et Bergamote
(Myrtle & Bergamot)
, Vétiver et Patchouli
(Vetiver & Patchouli)
.
The collection is color-coded. The names of the fragrances showcase two main notes. Some of the compositions present a nice level of complexity.
L'Essence des Notes launched this fall. The label is a creation of
Fragrance et Beauté Françaises
, the brainchild of its directeur général,
Huong Mangin
. The fragrances were composed in collaboration with
Mane
in Grasse. She said,
"...nous avons imaginé des notes originales avec les essences naturelles dans la composition du parfum aux univers riches et subtiles. Nous avons particulièrement mis l'accent sur la note de tête qui est fraîche et tonique. La note de coeur et de fond, quant à elle, évoulue avec une intensité couvrant toute la famille olfactive existant en parfumerie."


"...we imagined original accords with natural essences in the compositions of perfumes with rich and subtle universes. We put particular emphasis on the fresh and tonic head note. Regarding the heart and base accord, it evolves with an intensity that covers all the olfactory families that exist in perfumery."


You can read an interview with Huong Mangin
here
Information about the line is scarce so far. Picture is from the brochure handed out by the brand together with a sampler of their fragrances. Prices are 35€ and 55€ for 50 ml and 100 ml respectively.