Sarah Jessica Parker to Launch Consensual B.O.-Inspired Scent {Fragrance News} {Celebrity Perfume}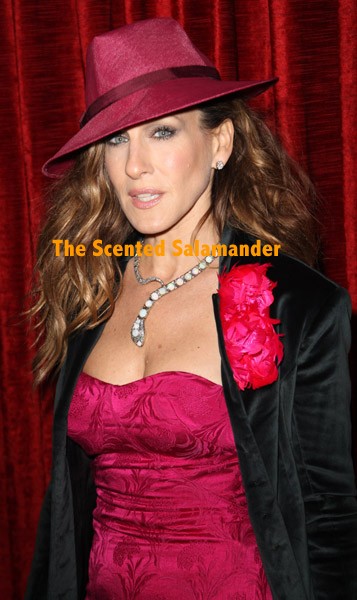 At the premiere of
Did You Hear About The Morgans?
Sarah Jessica Parker
has been expressing her wish for a long time to create an authentically musky scent, the kind that she is partial to. Apparently, after having been forced to compromise on her previous fragrance launches, she might be able to get closer to her goal and to take some creative risks.
Well, perhaps the word "risk" is a bit strong here as the actress insists that the scent of B.O. she has in mind remains popular with "everybody."
You cannot help but get a paradoxical vision of the most commonly encountered olfactory experience, the scent of humanity, exuded by precisely, each and everyone, going through a cycle of creative renewal and ending up in a bottle signed SJP. Of course, it is to be understood as a stance against deodorized society. The most common odor might be that of soap now. The scent of B.O. might be another form of anti-perfume, the kind that gestures in the direction of its anihilation by body odor, to borrow from post-modernist jargon. But are we really expecting SJP to be gesturing in that direction?...
She said,
"I'm working on a new genderless fragrance that's not out yet. I can't even tell you what it's called.

"It has taken me three years to decide on the scent because I really like B.O. and I think it's sexy. I wanted to figure out a way to make it palatable to everybody. I was like, 'How do you get B.O. in a bottle and make an atomiser of it?'


Via
contactmusic.com