Attention Paris Shoppers, The Annual Sales Have Started (Jan 6 - Feb 9, 2010) {Perfume Shopping Tips}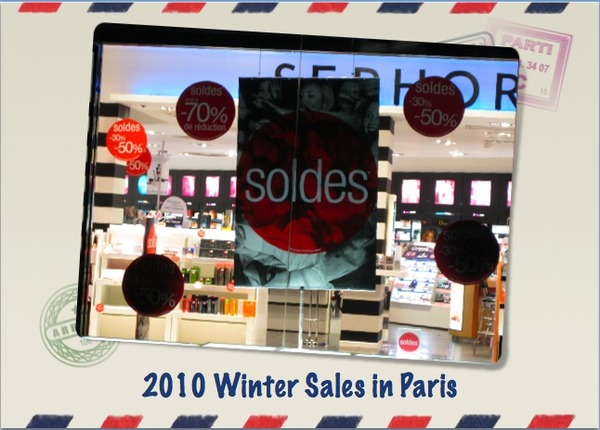 Today January 6 is Day 1 of the Annual Winter Sales called
Soldes
d'Hiver
in France. It is also the day of the Epiphany (I mention this because of the tasty and flavorful traditionally almond-filled
galettes des rois
pastries). They will last until February 9. It is only during this official bracketed time that retailers are allowed to lose money on sales and to try to sell off old stocks.The early media reports have been predicting record discount percentages from the beginning. While it is more usual to see prices drop steadily as the period of 5 weeks unwind, this time from what I have been able to see, prices are indeed deeply cut from day 1 at 50% off or 70% off for perfumes.
It remains to be seen what stocks will appear later on as from what I have been able to observe, only part of the products were put on display and in some stores there were rather relaxed about bringing out the discounted goods but were willing to check in the back of their boutiques...
Part of the excitement is probably media-generated nonetheless as you could not really witness any reel-worthy stampede at Le Printemps or Galeries Lafayette but rather an added flutter of excitement above the surface of a healthy foot traffic that is as usual tourist-driven in those two department stores. The typical mêlée-spots like the bins were comparatively more crowded but the offerings did not necessitate people to snatch them and behaviors remained cool and composed albeit a tad more feverish. On the other hand, brands which did not offer sales seemed neglected by the public's attention with sales assistants standing idle. There were tellingly longer lines than usual at the cash registers.
Some stores like Sephora which had advertised on their website an early opening at 8 am did not open before 10 am which again gave the impression that there was a discrepancy between the gung-ho atmosphere of the advertising and the reality. After all, all this is to last five weeks.
My sense was that with flyers stuck on walls announcing an exceptional opening day on Sunday January 10 in some places, the first week of the annual sales will be like a prolongation of the end-of-the-year-Holidays shopping period for people who have been holding off on spending at the end of 2009 in anticipation of the juicy 2010 annual sales.
How juicy are the perfume bargains?
At this point, what come in the first line of the sales are the
coffrets
with a perfume bottle and an ancillary product or two. They are the leftover from the Holidays shopping season and salespeople seem intent on moving them.
The individual discounted perfume bottles are on display on special tables or shelves or in bins and I thought that the prices were clearly labeled, with the old and new prices.
At Sephora there is further bargain to be had. if you purchase a product they will give you a 15% discount coupon to apply to "one of your favorite products" (and only one) until February (cannot be combined). You can collect those coupons each time you make a purchase. You may or may not need to have a Sephora card (obtainable on the spot.)
I haven't been to all the candidate places yet, but both Marionnaud and Sephora carry niche brands and a selection is on sale. In the past I have seen specific Serge Lutens discounted. Institut Très Bien cologne was discounted at 70% off available for 16,50€. Etat Libre d'Orange could be had for 50% off at 27,50€.
The Sephora website does not at the moment propose items on sale online while last year you could spot a number of Bond No9 being significantly discounted.
It will be interesting to see how the 5-week period is managed retail-wise to keep up with the customers' expectations.
According to fashionmag.fr, French distributors expect to generate 34,8 billions in revenue from the winter sales which would mean over 780 millions in increase from January 2009.