Laurence Dumont Charmes Secrets Fleur de Tendresse, Douce Caresse, Nuit Sensuelle, Passion Absolue (2010) {New Perfumes}
Laurence Dumont
is launching a new perfume collection entitled
Charmes Secrets
(Secret Charms). It comprises four perfumes meant to evoke four different and complementary universes destined to women who are on a mission to charm and seduce. They are called
Fleur de Tendresse
( Flower of Tenderness),
Douce Caresse
(Soft Caress),
Nuit Sensuelle
(Sensual Night),
Passion Absolue
(Absolute Passion).
The fragrances were composed by perfumer
Philippe Collet
of Expressions Parfumées who has also composed Annayake Tsukimi and Salvador Dali Dalimania the latter which I have already mentioned on the blog as an overlooked exotic dark-vanilla-heavy scent...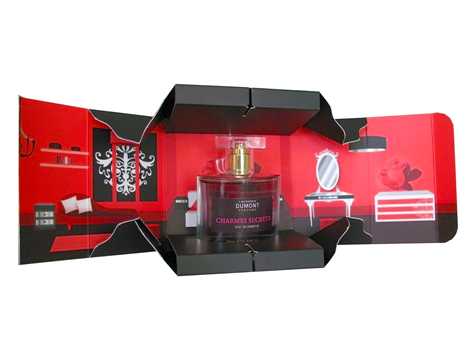 Fleur de Tendresse
is described as a spring bouquet for romantics and dreamers.
Romantique, vous êtes toujours en quête d'amour ! Votre douceur s'exprimera dans la senteur de bouquet de fleurs printanières, une composition fleurie qui laisse rêveuse.
Douce Caresse
has notes of mandarine, litchi, licorice. For mischievous women.
Malicieuse, vous aimerez la douceur veloutée que vous procure l'association délicate de la mandarine, du litchi et de la réglisse de Douce Caresse.
Nuit Sensuelle
is powdery and has notes of flowers, fruits, patchouli and white musk
Une fragrance ponctuée de charmes et de sensualité obtenue par le mariage du patchouli et du musc blanc, dissimulé dans un bouquet de fleurs et de fruits.
Passion Absolue
evolves from fruity and demure to warm, vibrant and oriental. For mysterious women.
Les femmes mystérieuses envoûteront avec l'accord des notes orientales et ambrées de Passion Absolue. Sage et fruitée dans un premier temps, cette fragrance se révèle chaude et vibrante sur la durée."
The launch is presented as a desire to bring higher quality and glamor to the mass-market perfume shelves, a point which is of particular interest to me as I have been taking a closer look at mass-marketed fragrances in France lately.
It sounds like perfumer Philippe Collet's name might be more prominently advertised than is usual as the article offering the scoop mentions the fact that the consumer will be able to read a few of his words on the packaging.
One technical challenge that was at the forefront of the fragrance developers' preoccupations was to offer a more lasting sillage in response to the feedback received from Laurence Dumont customers. A special formula has thus been reportedly devised.
The visual presentation of the perfumes is exceptionally
soigné
, with an interior boudoir theme which is reminiscent of the packaging of
Benefit Crescent Row
perfumes. A perfume bar will be found in the stores.
Each perfume is priced at 14,90€
Via
actu-beauté