Mally: The Fragrance (2009): Sampaguita or Gamma-Decalactone Fantasy Tropical Soliflore {Perfume Review} {Celebrity Fragrance}
Mally Roncal
is a makeup artist to celebrities, the likes of Beyoncé, Angelina Jolie, Jennifer Lopez and many more. She launched a cosmetics line which she sells on QVC and Mally Beauty. She also founded a company called Mally Girl. The beauty entrepreneur last fall added a perfume to her lineup of beauty products in October 2009.
Mally:The Fragrance
is presented as a homage paid to the Sampaguita the national flower of the Philippines, the home country of Mally. The bloom might be better known in the US under its other names, pikake and jasmine sambac...
Sampaguita is part of Filipino folk tradition. It is the Spanish form of "sumpa kita" which means "I promise you" as the flower is known as a symbol of fidelity and eternal love in the Philippines. The state itself considers it a symbol of honor and dignity. According to Cindy Fazzi in
How to Draw the Philippines' Sights and Symbols
, the popularity of sampaguita is in part related to a folk tale recounting the tragic love story between a beautiful woman called Lakambini and her lover Lakan Galing. As the latter left one night to defend the village of his beloved, we are told, she promised to love him forever saying "Sumpa kita," I promise you He gets killed in the ensuing battle and her death soon follows. A sampaguita symbolizing their love is said to have appeared on her burial place...
What It Smells Like
Opening notes:
sampaguita, mandarin, red currant, bamboo, palm leaf

Sustained notes:
freesia, jasmine, muguet, peony
Lingering notes:
peach, coconut, sandalwood, musks

The creation of the scent is reportedly based on Givaudan's Scent-Trek technology. This technique allows chemist-perfumers to record and then reconstitute the scent of a living flower like sampaguita. As the brand explains,
"The sampaguita flower, has been scientifically and artfully reconstructed in its natural expression without damage to this delicate flora resource."

The Eau de Parfum opens on juicy and slightly tart red berries followed by a floral accord that is unexpectedly oily verging on an impression of fried breakfast Chinese dough with more than a hint of sesame seed oil. This is a nuance I remember well for having experienced it in Serge Lutens Nuit de Cellophane and Chanel Cristalle Eau Verte.
After this optimistic and freshly-squeezed opening, and as the floral note further unfolds, the texture of the scent moves from sparkling and fizzy to dense, rich and intense. As the oily overtone subsides somewhat, the fragrance becomes more of a fruity-floral but with an unusual thickness. The scent seems to become orangier and orangier and more transparent. It is a little bit as if you saw a russet-colored sunrise in slow motion. There is a touch of musky piquancy and a very light woody impression the latter which contributes to the roundness of the scent.
The composition is sweet but manages to strike a good and rather unusual balance between a syrupy feel and a floral nectar. The impression of sweetness has visibly been worked upon and is not your run-of-the-mill candied, sugary sensation.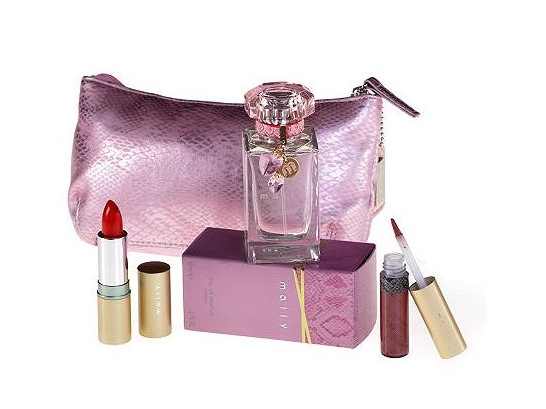 Mally Beauty Living Lovely set mixes cosmetics and perfume
Mally EDP then goes on to take a veritable
banane-flambée
nuance which is so far uncommon in personal perfumes and which was announced earlier on by a nice hint of overripe fruit and delectable putridity. If this sounds not very appetizing to you think blue cheese, Roquefort or Blue Stilton and consider how many people seem to disagree with the idea that rot is not palatable and pleasing. The rummy banana flambée accord now seems to rest on a fresh young banana which has been buttered on all sides before being cooked and stewed.
If you add up the different facets I have described so far you can well see that Mally is not exactly low-cal. It is a rich, sexy perfume.
This intriguing mix of olfactory nuances is actually man-made but not in the way you might think. Here the symphony of facets is due to an interesting synthetic ingredient called Gamma-Decalactone. It is used for flavoring foods and as an additive in cigarettes. In a 2006 report on Philip Morris cigarettes which make use of the Gamma-Decalactone ingredient, it is said that it is used in perfumery to create "...
heavy, fruity flower odours
..." The report concludes that the aromatic molecule does not make cigarettes more dangerous than they already are.
Judith Michalski writes in an article in
Perfumer & Flavorist
entitled "Delightful Gamma-Lactones" and about Gamma-Decalactone in particular that "
the odor of this component is musty, slightly floral, oily, slightly-coconut-like, fruity (peach, apricot) with a faint melted butter note
." It is added to Colby cheese for example "
to reinforce buttery richness, and caramel and toffee flavors to reinforce rich aftertaste
."(P & F, January 2010).
Mally is a very lactonic composition which seems to rest for the most part on the power of Gamma-Decalactone. It is thought to be an economically interesting ingredient because it makes a perfume feel rich while being less than costly and efficacious in very small quantities.
The perfume although advertised as a living-sampaquita-based perfume does not smell to my nose like the jasmine sambac I am used to smelling in Thailand or Indian neighborhoods. Is it a particular cultivar? Murmure by Van Cleef & Arpels, A La Nuit by Serge Lutens, Armani Code for Her, Trouble by Boucheron are more like what I know as the aroma of the Sampaguita. My childhood experience of spending holidays in the Philippines did not create a recall effect in me, a Proustian aha moment upon smelling Mally. My only spontaneous Proust-worthy recollections actually turned out to bear a recent date and they were called Nuit de Cellophane by Serge Lutens, an osmanthus fragrance, and Cristalle Eau Verte by Chanel, an officially more abstract white floral scent with great affinities to Nuit de Cellophane (they share the same perfumer) than like my memory of jasminum sambac. It could be a case of poetic license, of abstraction. I can discen some orange-y notes that seem to allude to the orange-blossom aspect of sampaguita, but the floral scent I find more characteristic of osmanthus than of jasmine sambac.
Mally is mostly a fantasy tropical soliflore creating both a simple and rich impression at the same time. Perfume-wearers might appreciate not finding the usual culprits: a soapy white musk borrowed from your favorite detergent and a candied sensation based on ethyl-maltol à la Pink Sugar by Aquolina. This EDP has decided to turn its back on these more common olfactory references and to sing a love-song instead to lactones.
You can currently find the fragrance at an introductory price of $59,16 instead of $65 on QVC