Chanel Chance Eau Tendre (2010) {New Perfume}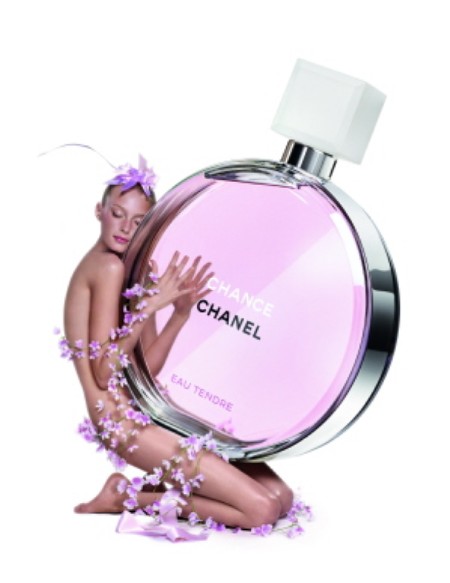 {A
fragrance review of Chanel Eau Tendre
was added to the blog!}
This spring, Chanel will launch a new, more delicately-scented flanker to the original Chance (2003) called Chance Eau tendre (Chance Tender Eau).
The new perfume is described as a fruity and floral interpretation of Chance Eau de Parfum...
The advertising campaign for Chance Eau Tendre is signed Jean-Paul Goude, a pillar of the fashion visual world in France whose iconoclastic campaigns regularly pop with colors and fantasy on the fronts of the Parisian department stores like Galeries Lafayette and in the metro. His trademark images can be recognized a mile away, with models invited to defy gravity while playfully holding on to anything crazy and unpractical within reach.
French model Sigrid Agren is the spokesperson for the perfume. The ad features her wearing only the flacon of Chance Eau Tendre and a garland of flowers in a twist on the Marilyn-Monroe trope, she who boasted that nothing came in between herself and her perfume (No.5). The imagery is part of the Chanel mythology after all.
The perfume will be available from April 2nd 2010. It is priced at 57 € for 50 ml and 79,50€ for 100 ml.
Via
pourelles.bienpublic.com