Laura Tonatto Notte a Taif (2010) {New Perfume} E Duse is Back & New e-Commerce {Fragrance News}
It is with pleasure that I am able to report that independent Italian perfumer Laura Tonatto has now a
new website
which functions as an international e-commerce. It was until recently difficult to come by her fragrances unless you were in Rome or Turin.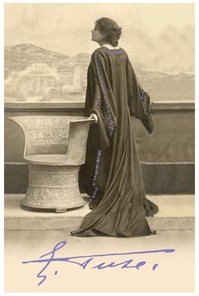 To make the news even more delightful, I see that the lovely violet composition that is
E Duse
, a perfume which is a homage paid to the great actress Eleonora Duse (1858-1924) is back in her catalog.
One of Tonatto's specializations which is conducted through her workshop Naso e Parnaso is historical interpretative work in compositions inspired by famous historical figures or even works of art. In 2005, for example, she created a perfume based on the painting The Lute Player by Caravaggio for the Hermitage Museum...
Notte a Taif is a new perfume which launched this February 2010. It is said to be a rose composition with roots in ancient times and which promises an "unexpected timing", something that perfumes can offer when they work in a sophisticated manner on their arcs of evaporation.
"Notte a Taif" talks about a world of olfactive ancient traditions, very far from ours, with unexpected timing and colors.

Everything changes if you wear "Notte a Taif": you need to wait and time will change the suggestive notes of this scent. Then these bouquet notes will play on the skin , creating a sensual and feminine nocturne."


This rose perfume is said to be " warm and persistent, rich and flowery with a honey note."
Top note: orange blossom, bergamot

Middle note: rose, tuberose, jasmine

Base note: amber, vanilla


The Laura Tonatto perfumes are priced at 72€ for 100 ml and are available in a line of ancillary products including in the home-fragrance range called Shanghai.

Finally civet lovers, I can only recommend you try Oropuro, a civet solabestia for people who would like to buck the musk-oil trend.