Prada Infusion de Tubereuse and Infusion de Vetiver (2010) {New Perfumes}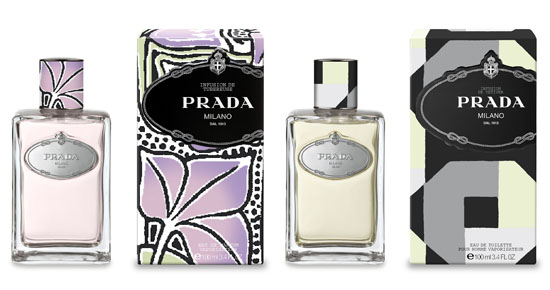 {A
fragrance review of Prada Infusion de Vétiver
has been added to the blog!}
{A
fragrance review of Prada Infusion de Tubéreuse
has been added to the blog!}
Following
Infusion d'Iris
, Infusion d'Homme and Infusion de Fleur d'Oranger, Prada will launch a her-and-his duo called Infusion de Tubéreuse (Tuberose Infusion) and Infusion de Vétiver (Vetiver Infusion). The perfumes in this line usually reveal a retro touch and are elegant showcasing both a fresh and carnal eau de cologne signature re-thought by perfumer Daniela Andrier.
A stylistic continuity can be seen in the packaging which becomes even more decorated. Prada Infusion de Fleur d'Oranger was recently featured in
an exhibition at the Musée d'Orsay
in Paris which appreciated the homage the design of the perfume pays to the Art Nouveau period...
Infusion de Tubéreuse has notes of Indian tuberose, petitgrain bigarade, blood orange and dynamone.
Dynamone is the name of an aromachemical with an ambery character derived from cistus ladaniferus. It is reputed for its great diffusive power and its persistence although it is also acknowledged as being a tricky material to use in perfumery.
Infusion de Vetiver includes notes of tarragon, vetiver, Madagascan pepper and purple ginger.
The women's scent is priced from €67 for 50ml and the men's scent from €53 for 50ml.
Via
beaut.ie