Blugirl Jus No.1 (2010) {New Perfume}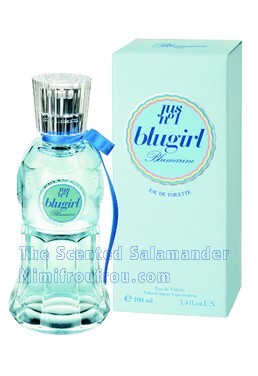 The Blumarine-family label
Blugirl
will launch its debut perfume called
Jus No.1
following up on the release of Blumarine Bellissima in the fall of 2009. The word "jus" is sometimes disliked by perfumers who think it is not noble enough a term, just like some cringe at the use of the term "nose" to designate a perfumer. Personally, I don't have any problems with either of these designations as they sound more familiar and affectionate to my ears than derogatory.
About the new scent, the brand said,
"We wanted to create a romantic essence with a touch of irony in keeping with the brand. We had the idea to call the scent Jus No.1, to be a bit ironic, playing with the word juice which can mean fragrance or also a beverage,"....

Jus No.1 was composed by perfumer
Christine Nagel
of Fragrance Resources.
"An initial zesty top note of white grapefruit, tangerine mandarin and lemon combined with "a sunnier aspect" that conjures up the fresh scent of sea and sand. Freesia, magnolia and jasmine were added to offer a sparkling heart, described as "Champagne bubbles." Romantic base notes include musk, sandalwood, amber and touches of vanilla."
"Jus No.1 comes in 50-ml. and 100-ml. sizes of eau de toilette spray, at 39 euros and 55 euros, or $52 and $77, respectively. There is also a bath line comprising of a 200-ml. bath gel and a 200-ml. body lotion for 12 euros and 15 euros, or $17 and $21, respectively."
The packaging is so cute. Looks like the pretty girlfriend of Mr. Coca-Cola and they're having a date at the old soda fountain counter, or something like that.
Via
WWD