Lolita Lempicka Eau du Désir (2010): Eau de Cologne & Extrait in One...Who Knew? {New Perfume}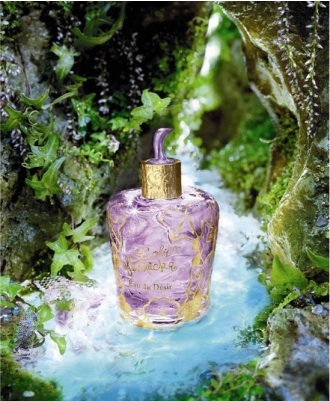 ©Lolita Lempicka
This spring, French designer Lolita Lempicka is introducing a perfume which aims to be innovative as it is structured both like an Eau de Cologne and a Pure Parfum or Extrait, all at the same time. It is a little like attempting to put snow and fire in the same bottle as each of these two fragrance genres are usually found at the opposite ends of a spectrum, not in the same flacon.
Eau du Désir reveals a desire to overcome a commonly advertised chasm: the one separating light-fragrance lovers from deep-perfume lovers. Lolita Lempicka are taking a different approach and think that there are women who like both sensations and they are attempting to satisfy them...
This novel fragrance blends the lightness and freshness of an eau with the sensuality of a perfume."

The top notes rest on verbena and citron which were built using an Eau-de-Cologne accord.
The heart is floral wanting to reinterpret the floral tonality of violet mixed with jasmine sambac and iris.
The base notes smell of skin and of the "
disarming carnal notes of a charming musk
."
Eau du Désir is a limited-edition eau de toilette expanding the best-selling portfolio of the original fragrance Lolita Lempicka launched in 1997.
A 100 ml spray bottle is priced at 75€ and currently available at parfumslolitalempicka.com