Lush Turns To Bath and Body Products For Fragrance Inspiration (2010) {New Perfumes}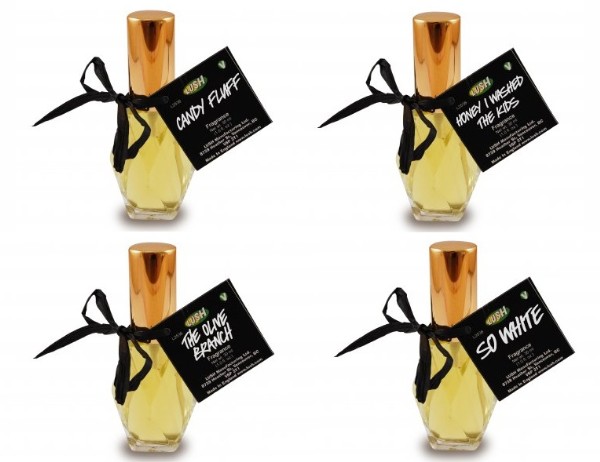 Following a perfumery trend which attempts to blur boundaries between Haute and Low Perfumery, i.e., bath and body products usually referred to as
functional perfumery
, Lush have turned four of their popular toiletry scents into limited-edition perfumes. They are So White, Candy Fluff, Honey I Washed The Kids and Olive Branch...
These perfumes have been out for a little while now and Honey I Washed The Kids is sold out, that is online at least. Interestingly, this line of renegade scents is apparently targeting the North American market only (US + Canada) as I do not see them on the UK, France, Germany, Russia, New Zealand, Australia sites (there are many more countries to check though).
The North-American Canadian and especially the American market have a reputation for liking clean, soapy scents the most so that would seem to be Lush's take as well.
It's fun to read the French Canadian site because they give the names in French with some local expressions like "Neige Blanche" instead of "Blanche Neige" and especially the expression "un petit jet" de parfum to say a spritz, which is not used in French from France and makes it sound like you are going to get a lot of perfume on yourself.
The Olive Branch ($46,95) is inspired by the shower gel with notes of mandarin and bergamot.
Candy Fluff ($34,95) is the liquid form of the dusting powder.
Honey I washed The Kids ($41,95) is inspired by the soap.
So White ($39,95) is like spritzing on the bath bomb with notes of green apple, romantic rose and oranges. The narrative inspiration for the scent is Snow-White.
Available in Lush stores and lushusa.com