More French Celebrities Enter The Perfume Ring: Melanie Thierry and Marc Lavoine + An Hexagonal Retrospective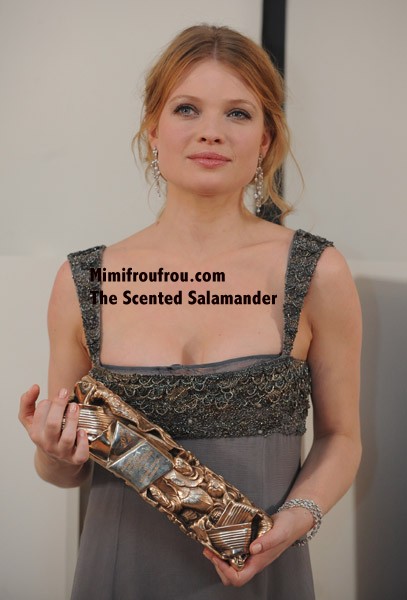 Mélanie Thierry just received the César prize for "meilleur espoir feminine" (best up-and-coming female actress).
Although celebrity and perfume do not seem to mesh as well in French culture as in American pop culture, lately an effort has been made by French brands to corral in the charm of celebrities to create perfume consumption lust.
This is not to say that there were never French celebrity perfumes. In fact in the early days of the 20th century, you could find a signature perfume by actor Jean Marais, the lover and friend of Jean Cocteau. Earlier than that Josephine Baker, an adoptive Parisian, had her name not only on cabaret posters but on fragrance bottles....
Catherine Deneuve contributed her chypre perfume in 1986, a well-esteemed jus which is now, alas, discontinued. Regine not only opened disco spots around the world but created and continues to create fragrances. Chanel have been instrumental in encouraging this worldview with the seminal hiring of Catherine Deneuve by Jacques Helleu for Chanel No5 and they continue to lead the pack by proposing ambitious perfume commercials filmed by great movie directors and featuring world-famous actors like Nicole Kidman.
But despite these significant inroads show biz celebs for fragrances have been few and far between spanning over the decades and the years rather than the months compared to the recent phenomenon in the United States, which in general can be called a country who knows how to master beauty showmanship. The impact of Hollywood cannot be ignored.
More recently though, the fragrance industry in France has turned willingly to star power by hiring famous faces to grace their advertising campaigns. Olivier Martinez for L'Homme by Yves Saint Laurent was followed by
Vincent Cassel
of La Haine for La Nuit de L'Homme. Kate Winslet is the new image for Trésor by Lancôme. Kate Moss is the incarnation of Parisienne by YSL. Uma Thurman smolders on the ad for Ange et Démon Le Secret by Givenchy. Before her it was the ex French Primer Minister Dominique de Villepin's daughter Marie Steiss who could be seen on the billboards. Charlotte Gainsbourg wanted and got to be the woman who wears Balenciaga Paris for everyone to see. Even more confidential niche perfume houses like Comme des Garçons and Etat Libre d'Orange have turned to arty celebs like Stephen Jones and Daphne Guinness for CDG and Rossy de Palma and Tilda Swinton for ELO.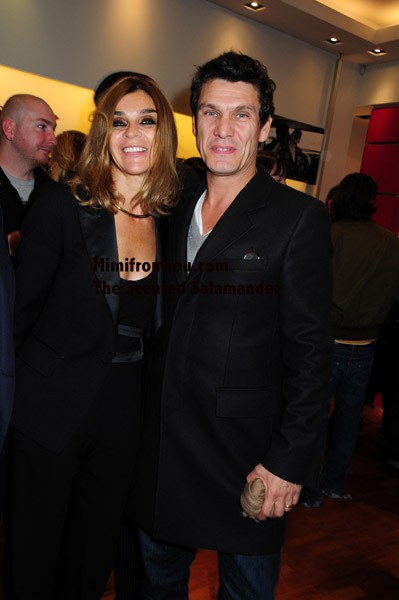 Marc Lavoine and Carine Roitfeld at a Dennis Hopper party last fall
The trend is apparently shaping further with yesterday's announcement that actress Mélanie Thierry who has been in a Krizia ad campaign in the US will be the next icon for an upcoming Yves Saint Laurent women's perfume to be launched this year. Actor and singer Marc Lavoine will also appear in a new advertising campaign for Cerruti 1881 men's cologne from June 2010. The news were published by WWD who nevertheless pointed out that they remained a non-confirmed, yet informed speculation.
The French exception is perhaps that celebrities are more willing to lend their physiques to an advertising campaign than to develop fragrances. Despite the fact that a tradition of celebrity fragrances exists in France, a certain culture of discretion counterbalances its effect.