Fragrance Shopping Tip of the Day: Hermessences Available Online with Personal Consultation Service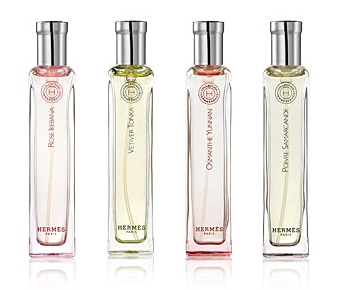 For amateurs of "olfactory poems": the Hermessence collection which was until recently exclusive to the Hermès boutiques is now available online and can be purchased individually or as a gift set comprising 4 perfumes to choose from the line...
The Hermès site, both the US version and the French one, (the ones I checked) also offer descriptions of each scent by in-house perfumer Jean-Claude Ellena as well as videos with the nose recounting the back stories for a few of them.
If you are interested in exploring a style of perfumery which is distinct from the designer kind found in department stores, this is a good start.
You can also request a personal consultation via email to help you choose the best Hermessence for you out of the 8 available.
A set of 4 x 0.5 fl oz is priced at $145 and 100€.
Each perfume is priced at 170€ / $235 or $575/410€ with a leather case option.
Available at usa.hermes.com and france.hermes.com