Anthropologie A Rather Novel Collection (2010): Six Historical Tea Travelogues {New Fragrances}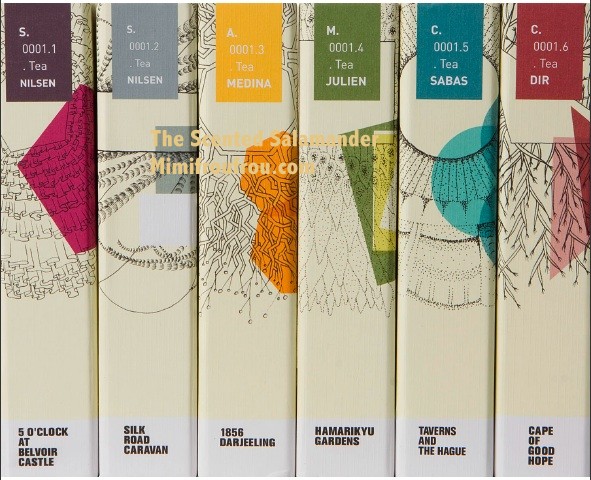 Anthropologie
have issued a debut collection of 6 fragrances called
A Rather Novel Collection
which is the
Volume 1
in an ongoing series. Volume 1 is dedicated to teas from 6 different locations around the world while each perfume is considered as a "
mini novel/travelogue in itself
," The compositions are signed by 5 perfumers from Givaudan company:
Stephen Nilsen, Adriana Medina, Marypierre, Caroline Sabas
and
Claude Dir
. What is novel still, even if Frédéric Malle have accustomed the public to reading the names of perfumers on bottles, is the fact that the will to showcase perfumers has been adopted by Anthropologie, an US and now international chain store...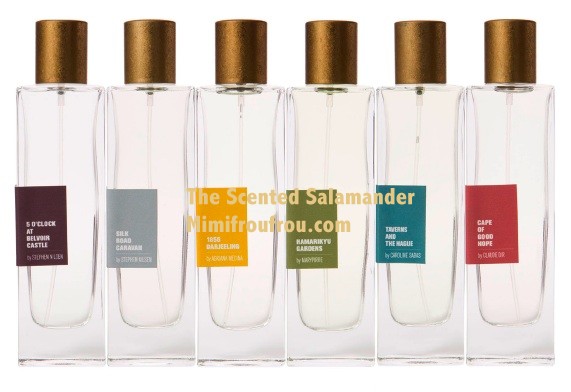 Five O' Clock at Belvoir Castle
by
Stephen Nilsen
is inspired by the tradition of high tea set by the Duchess of Bedford in 18th century England while she was spending the summer with friends at Belvoir Castle and her famished party one day needed cakes, sandwiches and black tea. This afternoon tea tradition was soon adopted in London. The scent is about
black tea
.
Notes: zesty bergamot, dewy fresh notes / narcotic jasmine, sultry red rose / sandalwood, patchouli, moss, tonka bean.
Silk Road Caravan
is also signed by
Stephen Nilsen
and centers on
silver tips white tea
, a high-quality tea which was appreciated at the court of the Tzars in 17th century Russia. The name evokes the trade between China and the Russian empire: it took 16 months and caravans needed to cover 11 000 miles to bring home the precious leaves.
Notes: fresh white tea buds, apricot, calla lilies / white roses, muguet, blushing peonies / orris, sheer vanilla, white musks.
1856 Darjeeling
is a fragrance created by
Adriana Medina
and focuses on
yellow tea
. The date is a reference to the year the first tea plantation was established at the foot of the Himalayas in the Darjeeling region where the English used to summer.
Notes: bergamot, cardamom, chamomile, mint / jasmine, orange blossom, rose, tea / cedar wood, amber, musk.
Hamarikyu Gardens
by
Marypierre
is dedicated to
green tea
and takes inspiration from the Hamarikyu Gardens in Tokyo and even more specifically from "
the restored Nakajima teahouse sitting atop a picturesque pond
."
Notes: sweet lemon, bergamot zest / verbena, saffron, green roses, violet leaf / soft amber, creamy musk.
Taverns and the Hague
is by
Caroline Sabas
. The perfume pays homage to
Blue Green tea or Oolong
, a favorite among the owners of the Dutch tavern at the end of the 17th century which offered the first tea service of the capital and country thanks to the merchants of the Dutch Trading Company.
Notes: sparkling lemon, mandarin zest / linden ice, orange flower, violet leaf / vanilla bean, sensual musks.
Cape of Good Hope
is signed
Claude Dir
. A historic turning point is the date 3rd August of 1498 when a first shipment of
red Rooibos tea
was loaded onto a boat and the tea was brought to foreign lands after crossing the Cape of Good Hope.
Notes: red tea leaves, lemon blossom/ white floral, gardenia, rose milk / musk, Madagascar vanilla, gentle woods.
Each perfume is priced $48 for 1.7 fl oz.
Via press release