Harrods Rose by Bond No9 (2010) {New Fragrance}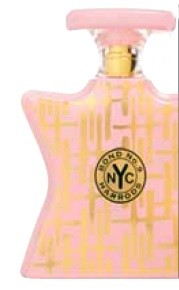 New York City based niche perfume house
Bond No.9
has been expanding its geographic compass significantly lately with city-exclusives outside of the Big Apple and an initial collaboration with London's Harrods last July 2009 which gave a duo,
Harrods for Her
and
Harrods for Him
. Now a new perfume has been created in collaboration with the British department store called
Harrods Rose
.
"
Now, having marked every NYC neighborhood with a scent of its own, Bond No.9 is free to compose a summer fragrance just for us."
...
Harrods Rose is a floral composition with a blend of narcissus, white rose and tuberose. In a parallel fashion, the New York City department store Saks Fifth Avenue has also collaborated this spring with Bond No.9 to deliver another rose perfume called
Saks-en-Rose
.
The bottle is a blush-pink version of the Harrods fragrance duo in the signature "star" or anthropomorphic flacons of Bond No.9.
A 100 ml bottle is priced at £190. The scent is a worldwide exclusive at Harrods.
Via Harrods Magazine