Gandini 1896 Maestri Profumieri (2010): Mix and Match {New Fragrances}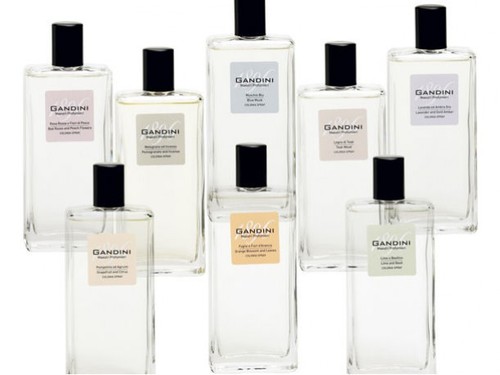 This year, Italian perfume brand
Gandini
has come up with the idea of launching a collection of 8 perfumes meant to be mixed and matched at will. The new library of scents is called
Gandini 1896 Maestri Profumieri
.
Gandini is an old name in Italian perfumery having debuted in 1896. Last year in 2009 they re-edited 8 fragrances from their archives: Violetta di Provenza, Notte a Capri, Vele a Vento, Applauso, Lavanda Alpi, Capriccio, Taiga, Iris Bleu...
Today, they are also known for their musk perfumes.
The juices from the new collection can be worn independently or combined to modulate the sensations you are seeking: more femininity, more boldness, more softness etc. Traditional methods of perfumery are underlined such as maceration and the filtering of raw materials.
Four of the fragrances about which I was able to find more information are:
Pompelmo ed Agrumi
(grapefruit, mandarin, bergamot, lemon, jasmine, lavender, rosemary, vetiver, musk, ambrette seeds);
Foglie e Fiori d'Arancio
(cedar, sweet orange, mandarin leaves, orange blossom, jasmine, muguet, vetiver, cedar wood);
Legno di Teak
(kiwi, pineapple, cumin, cinnamon, white pepper, cashmere wood, sandalwood, teak wood);
Lime e Basilico
(mandarin, bergamot, limette, iris, lilac, white thyme, basil, vetiver, patchouli);
Lavanda e Ambra
;
Rosa Rossa i Fiori di Pesco
;
Melograno ed Incenso
.
Each 50 ml eau de toilette is priced at 24€.
Via
veraclasse.it
;
leiweb.it
;
menstyle.it