Jennifer Lopez Love and Glamour (2010): The Never-Ending Quest for a Signature {New Perfume} {Celebrity Fragrance}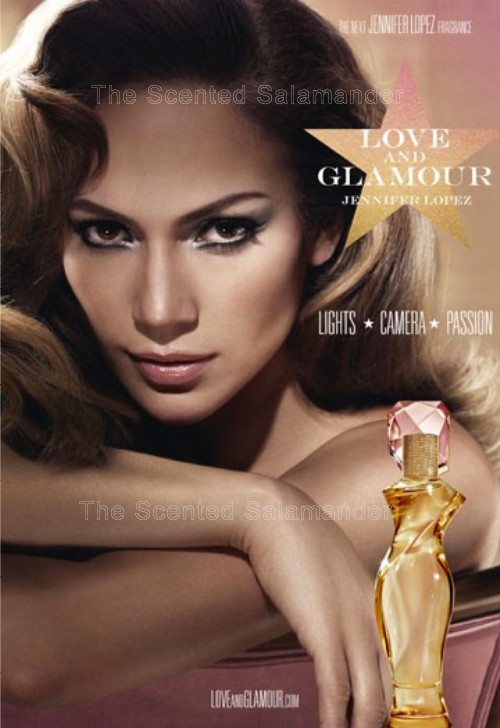 Jennifer Lopez
who recreated the 21st century version of the celebrity-fragrance business by encouraging everyone to jump on the bandwagon so easy and popular it seemed is still a veritable motor engine for this section of the fragrance industry having sold more than $1 billion worth of fragrance bottles in the course of 16 launches. Her latest creation is called
Love and Glamour
to be introduced in the fall of 2010.
The only thing the singer and actress is a bit critical of in the context of a booming business for most however is that too many celebrities join the game only for the money. She reveals that as far as she is concerned she invests the venture with authenticity and passion. She also explains her method which is to always look for the creation of a recognizable perfume signature.
"I go back and say things like, 'Can we push the sandalwood a little bit more, can we make a tiny bit more sexy?' To translate that into actual chemistry is a difficult thing. Then they go back and say, 'What does she mean by sexy?' And I'm like, 'You know if you [take] that little piece that smells a little bit like wood but has a little bit of musk?...

But I just want you to add a little bit of sweetness. Can you do that for me?' And then I think we are in the right direction. And then they come with one or two variations and I say, 'No, that's not it.' It's a long process.

"Making the bottle, creating the packaging, creating the campaign -- it's all so much easier than creating the juice. You always want to create something signature -- that's always kind of what I'm pushing for when working with Coty. You want it to be a combination that people have never smelled before. It's always an exciting time, because the sky's the limit and it can go in any direction."

Love and Glamour
was created together with perfumers
Honorine Blanc
and
Harry Fremont
. Notes are Italian mandarin, guava and nectarine pulp / a heart of water lily, coconut orchid, orange flower absolute and jasmine petals / sandalwood, sensual musk and amber.
The bottle represents a woman in an evening gown attending a glamorous event such as a red-carpet one. The ad emphasizes the Hollywood glamor reference - they trademarked glamor after all - with a star. The makeup Jlo wears was meant to emphasize a throwback feel to the 1940s, the golden age of Hollywood.
The collection will include eaux de parfum in two sizes, 1.7 oz. for $49.50 and 2.5 oz. for $58, and a 6.7 oz. body lotion for $27.50.
Via WWD