Lanvin Marry Me! (2010): Marry Me Maybe {New Fragrance}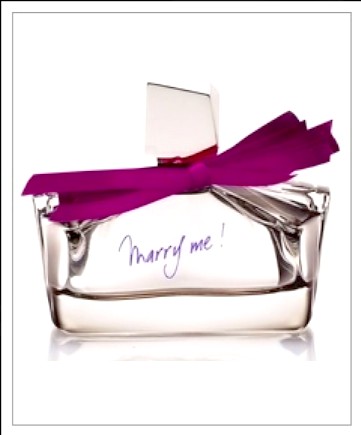 Lanvin
will launch a new women's fragrance called
Marry Me!
which is meant to embody the spirit of a "modern romance." Accent here is put on sentimental enthusiasm - on the exclamation point that is - rather than commitment - and thus the word "marry" - as the idea is to evoke this magical moment which will make you want to say
"Marry me!
" without meaning it necessarily literally.
In other words, the scent is not really rooting for the institution of marriage but rather uses marriage as a figure of expressive speech; it seems to want to tap into contemporary sensibilities, in particular young people's fear of commitment which must be seen as a societal trend...
The perfume was composed by nose
Antoine Maisondieu
of Givaudan. Marry Me! is a fruity floral with notes of white peach, bitter orange essence, freesias, white cedar, amber, musk veil, magnolia, jasmine sambac, rose petals.
The fuschia bow is seen to represent the spirit of haute-couture while the silver hood is inspired by the art-deco period.
The eau de parfum will be available in 30, 50 and 75 ml for 36,70€, 55€, and 68,50€.
Via tendance-parfums.com; osmoz.fr