Scented Quote of the Day, from Paul Morand: How Coco Chanel Smelled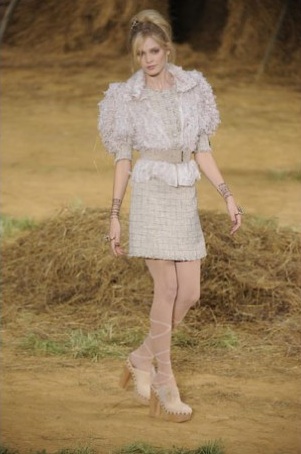 I loved the following quote from French writer Paul Morand about Gabrielle Chanel of which he suddenly feels inspired to draw an imaginary olfactive portrait like an electric shortcut taken through time and memory. When I read the passage, it makes me think that this short moment smells of Cuir de Russie, No.5, but also Dzing by L'Artisan Parfumeur. I am looking for the fougère note which might capture her forest-smelling side and I think of Alpona by Caron which has always made me think of a green forest in the middle ages.
Still, it is again a piece added to this myth of Chanel as the peasant-genius...
(Chanel Fall 09 on the right)
"Chanel was a shepherdess. She smelled deliciously of the scents of the race-track, haymaking, manure, the leather of boots, saddle soap, the undergrowth."

*At one point Paul Morand compares Chanel's spirit of independence to that of a Tzigane, so I would be tempted to see here also the possibility that "ring circus" might adequately translate "piste d'entraînement" instead of "race-track."